AudioTheory has announced availability of AudioTheory Guitars, an interactive reference tool for guitar notes and chords.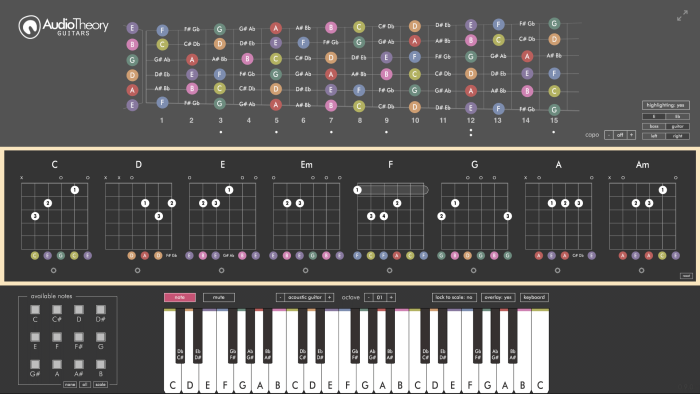 By presenting the necessary information in an interactive and customizable format, the software provides direct feedback on your input with a smart color coding system that helps demystify guitar music theory.
AudioTheory Guitars is the ultimate reference tool for guitar notes and chords. Featuring a built-in keyboard, each note reacts to your input across the customisable chord and fretboard diagrams.

For anyone who's ever wished music theory was that little bit more straightforward – this is the software you need.
AudioTheory Guitars features
Seamlessly transcribe between piano and guitar using a straight-forward color coding system and notation highlighting. Play a note on the keyboard to instantly see where it is in your chords and on your fretboard.
Set your capo and everything adjusts accordingly – no need for a chord transposition chart.
Exclude notes and never play out of key again. Your fretboard diagram now only shows the notes you need and your keyboard doesn't play the ones don't.
Midi support. Connect an external Midi input device to control the on-screen keyboard.
Full customization. Select the chords you want. Left-handed mode for left-handed players. Choose between guitar and bass fretboard diagrams.
AudioTheory Guitars is available for Windows and Mac, price $6.99 USD.
More information: AudioTheory