Plugin Boutique has launched a sale on the AudioThing Kontakt Bundle, offering over 60% off regular on the collection of 26 meticulously sampled Kontakt instruments, featuring a unique blend of sounds.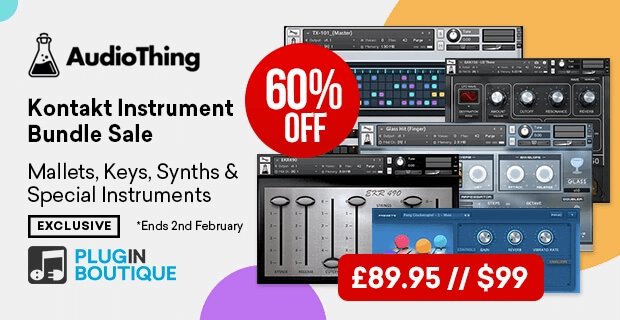 The complete and diverse range of Kontakt Instruments from AudioThing. Featuring Synths, Percussion, Strings, Keys and more!
The bundle includes:
Tuned Percussions/Mallets: Frame Drums, Toy Marimba, Bells, Wood, Pipes, Glass, Pong Glockenspiel, Tank Drum.
Synths: GAK150, EKR490, Satellite, SX1500, Tapestation, TX101.
Strings: Bowed Harp, Strings.
Sound Design: Soundscapes Vol.1, Soundscapes Vol.2, ChromaKey, Milkshake.
Keys/Specials: Organetta, Magical Toy Keyboard, Toy Piano, Xmas Beer Bottles, Halloween Pumpkins, Toy Bars.
The bundle is on sale for $99 USD / 99 EUR until February 3rd, 2020.
More information: AudioThing