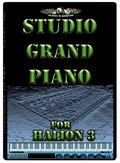 AudioWarrior has released Acoustic Grand Pianos for HALion, a sample library based on a traditional 'Bright' Steinway 88 and a 'Mellow' New York style Steinway & Sons 88.
Acoustic Grand Pianos for HALion features
Includes digital reproductions based on 2 famous pianos renowned for their deep powerful 'bright' 88 bellowing keys with resonant lows, mellow mids, and sparkling highs.
Full range of 24-bit piano sounds with natural decay and subtle nuances needed for solo piano or multi-tracking in the latest professional software environments.
Designed to be extremely easy to use and will fit perfectly into your media productions for film, video, music or television, and in any musical style.
Acoustic Grand Pianos for HALion requires HALion 3.1 or higher and is available for download $49 USD.
Visit AudioWarrior for more information and audio demos.