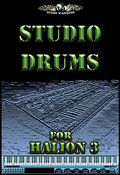 AudioWarrior has released two new sample libraries for HALion: Studio Drums and TRON.
Studio Drums features 30 multi-velocity professional kits covering a broad spectrum of musical styles. From authentic acoustic kits to contemporary electronic collections and ethnic percussion from around the world.
Studio Drums features
Complete perfectly tuned kits with deep Bass Drums, Toms, Side Sticks, ChinaCymbals, Splash Cymbals, Ride Cymbals, Crisp-Snapping
Snares, Rim hits, and more.
12 World percussion drumming software instruments: Hypnotic Rainsticks, Rhythmic Shakers, Crisp High Hats, Pedal Sounds, Chunky Stick Hits,
Side Sticks, Himalayan Bells, Celtic Bodhran, Djembe, African Ashikos , Ashiko Loops , Thunderous Floor Toms and Deep-Rack Toms.
TRON features the sounds (24-bit/44.1KHz) of the Mellotron.
Unlike the original Mellotron these 8 second samples have been perfectly looped for the modern world however the loops may be turned off to recapture the vintage effect of certain voices ending at variable times.
Studio Drums and TRON are available as a download for $49 USD each.
Visit AudioWarrior for more information.