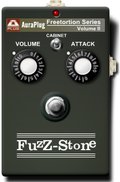 AuraPlug has released Fuzz-Stone Distortion, the second plug-in in the Freetortion Series.
The Fuzz-Stone is a '60's styled guitar fuzz tone pedal which simulates the Legendary Stones' Satisfaction guitar tone.
Fuzz-Stone Distortion features
Stompbox design
Level control
Distortion control
Cabinet simulation
Easy to use
Low CPU usage (less than 1% on P4 2.4GHz)
Fuzz-Stone Distortion is available as a freeware VST effect plug-in for Windows PC.
Visit AuraPlug for more information.