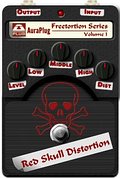 AuraPlug has released Red Skull Distortion, a freeware distortion effect plug-in for Windows PC.
Red Skull Distortion is an aggressive high-gain distortion pedal simulator with unbelievably chunky metal tones for playing Nu Metal, Grind Core, Hard Core, Trash Metal or any genre that requires crushing sound.

The tone section gives you complete control over Bass, Midrange, and Treble to get the ultimate chunk for your virtual rig.
Red Skull Distortion is the first freeware plug-in (Windows VST) in the Freetortion Series. It features level and distortion controls, and 3 band tone control.
Visit AuraPlug for more information and a link to download Red Skull Distortion.