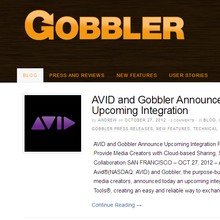 Avid and Gobbler, the purpose-built cloud for digital media creators, have announced an upcoming integration with Avid Pro Tools, creating an easy and reliable way to exchange and back up Pro Tools sessions.
The Gobbler integration will enable you to send files, mixes or entire sessions directly from the Pro Tools interface, reducing steps and eliminating errors. Other unique capabilities, include:

Automatically locate and back up all of your local Pro Tools sessions to the cloud. You can sleep easier knowing you'll never lose a session again.
Locate, back up and send all the media files your session requires, regardless of where they're stored. You can be confident you're sending complete sessions.
Continuous backup of sessions as you work. Your sessions will be ready to go when you're ready to go home.
Gobbler knows when your Pro Tools system is working, so it never interrupts your creative flow.
Gobbler knows which files have already been uploaded and downloaded, avoiding wasted storage and minimizing transfer times.
With no file size limits, you can send any size session to anyone, as easily as sending an email.

Until full integration is launched, Gobbler continues to support fast and secure backup and transfer of Pro Tools sessions now. Free 5GB accounts are available at www.gobbler.com. Larger plans from Gobbler are available on a monthly or annual basis.
More information: Gobbler