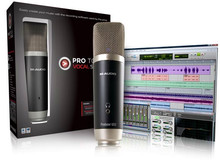 Avid has announced Pro Tools Vocal Studio, Pro Tools Recording Studio and Pro Tools KeyStudio, three affordable bundles that aim at creative hobbyists with an interest in musical composition, editing, and production as well as consumers who are looking to create and share music, podcasts, narrations and other forms of audio with their peers.
Pro Tools M-Powered™ Essential software is based on Pro Tools software, the industry standard used by professionals to create, edit and produce much of the world's most popular music. Pro Tools M-Powered Essential enables users to progress from casual playing or singing to full-fledged music production – with styles ranging from hip-hop and funk to pop, jazz, rock and blues. The software also includes a library of virtual instrument sounds– the perfect starting point for anyone to begin making their own music, even for someone with little to no musical experience.
Pro Tools M-Powered Essential music software is bundled with top-quality, yet simple-to-use M-Audio® interfaces, in the following three configurations:
Pro Tools Vocal Studio turns the computer into a complete vocal recording studio. This bundle includes the Producer USB microphone, a studio-quality mic that lets people capture vocals, as well as record acoustically played instruments. The Producer USB mic lets people record with stunning clarity, whether they're singing a future hit song or narrating a family biography. And with Pro Tools M-Powered Essential, it's easy to remix vocals to produce professional-quality soundtracks and podcasts with ease.
Pro Tools Recording Studio enables people to craft professional-sounding songs and remixes — no experience needed. With the included Fast Track® USB audio interface plugged right into the computer, music enthusiasts can capture pristine digital sound for any recording project, whether from a guitar or a standard microphone. With Pro Tools M-Powered Essential software, consumers can dub, mix, remix, edit, blend, restore, hone and more to create audio projects that will sound like they came from a pro — even if someone's never recorded a note before.
Pro Tools KeyStudio features the M-Audio KeyStudio USB keyboard, a simple, yet high-quality 49-note velocity-sensitive keyboard that also functions as a MIDI interface. With Pro Tools KeyStudio, users can record a single keyboard track or create a complete orchestral recording using the KeyStudio to input any of the 60+ virtual instruments that come loaded with Pro Tools M-Powered Essential.
Pro Tools Vocal Studio, Pro Tools Recording Studio and Pro Tools KeyStudio bundles (PC and Mac) will be available beginning in mid-September at major e-tailers and retailers. Each Pro Tools Essential bundle is available at an MSRP of £79 GBP / $99 USD.
More information: Avid / Pinnacle