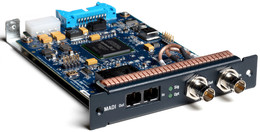 Avid has introduced the VENUE MADI (Multichannel Audio Digital Interface) Option Card, which opens up new workflows to VENUE users, making it easier to integrate VENUE into any existing MADI environment such as a concert venue, broadcast facility, or other fixed installation, using the industry-standard MADI protocol.
With the card installed, VENUE users can send and receive up to 64 channels of audio between their VENUE system and a wide variety of MADI-compatible devices, including routers, other digital mixing consoles, and mobile recording setups. In addition, customers can now easily accommodate more complex workflows that would typically require the use of a patchbay.
VENUE MADI features
Leverage broadcast and fixed installation investments by connecting a VENUE D-Show®, Profile, or Mix Rack System directly into existing MADI infrastructures.
Connect with a wider range of MADI devices through the card's optical and coaxial connections, as well as its 56-and 64-channel modes.
Easily add MADI connectivity to their VENUE system, and expand the channel count if needed to:

Send and receive up to 64 channels of 24-bit, 48 KHz audio—including all stage inputs—with one MADI card installed in an FOH Rack or Mix Rack.
Double distribution up to 128 channels by adding a second MADI card to an FOH Rack.

Simplify application setup and troubleshooting with automatic input signal detection, and ensure system reliability through simultaneous optical and coaxial outputs, enabling redundant connections.
Expand long-distance workflows, using fiber optic cable to transmit audio up to two kilometers (1.24 miles) away—without any loss in signal quality.
The MADI Option Card is available now, and easily installs into any available expansion slot in an FOH Rack or Mix Rack.
Avid has also released a new VENUE D-Show 2.8.5 software update, which provides many system improvements, and is available as a free download for all D-Show 2.8.x software users. For MADI card users, the software offers two new input modes—MADI Input and MADI Virtual Soundcheck—enabling them to easily switch between MADI and Stage inputs and do Virtual Soundchecks without re-patching.
More information: Avid