Avid has introduced its new Pro Tools|HDX digital audio workstation and Pro Tools® 10 software, delivering greater performance, higher sound quality, and innovative new capabilities that set new standards for audio post and music production.
Both are designed to provide the most capable, highest quality, scalable solutions to meet the evolving needs of the industry, and deliver better performance, faster workflows, and easier collaboration than ever for professional users.
Pro Tools|HDX
The Pro Tools|HDX system enables customers to mix bigger, more complex productions, with the rock-solid performance and stability that Pro Tools|HD customers have come to expect.
This new system represents a milestone in Avid's development of DSP-accelerated hardware, delivering up to 5x more DSP per card, over a thousand dB of additional headroom, and up to 4x the track counts and 2x the I/O compared to its Pro Tools|HD Accel predecessor. And as customers' needs grow, the system can be scaled to increase track counts, power, and I/O, using up to three Pro Tools|HDX cards and multiple Pro Tools HD Series interfaces.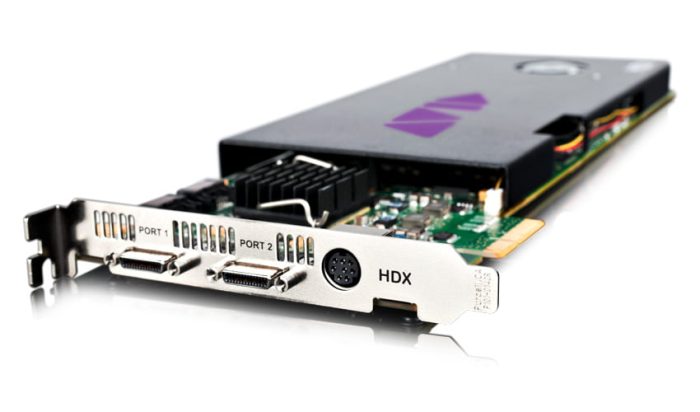 With this addition to the Pro Tools|HD family, there are now two powerful system choices. Customers can choose the Pro Tools|HD Native system if they need the advanced workflows and sound quality of Pro Tools HD, and want to leverage their host computer to get the best performance and lowest latency. Or customers can choose the new flagship DSP-accelerated Pro Tools|HDX system if they require consistent peak performance and near-zero latency to handle extremely large and complex productions.
Together, the Pro Tools|HD product family provides the highest performance, lowest latency, and greatest sound quality available for the most demanding audio post and music production professionals.
Pro Tools|HDX
Mix bigger, better projects faster

Get up to 5x the processing power of previous generation cards.
Manage larger productions with fewer cards, with up to 4x the playable track counts.
Work with up to 64 channels of I/O per card, enabling larger configurations with fewer cards.

Get more headroom—less headaches

Dramatically improve recording and mixing audio quality with over 1,000 dB additional headroom and higher resolution sound, thanks to the new floating-point architecture.
Capture, monitor, and output audio in pristine clarity with a choice of Pro Tools HD Series interfaces.

New AAX plug-in format—built for the future

Pro Tools HD 10 introduces the new AAX (Avid Audio eXtension) plug-in format, enabling better workflows and sound parity when sharing sessions between DSP-accelerated and native-based Pro Tools systems.
With two formats available—AAX DSP and AAX Native—AAX opens the door to future advancements in Pro Tools technology.

Pro Tools HD 10 software—included

Record and play back up to 256 audio tracks per card (or play back up to 768 tracks with three cards) to support the most massive mixes.
Get great recording and playback responsiveness with the extended disk cache, which can load entire sessions into RAM, and ensures maximum track counts from networked-attached storage, such as Avid Unity™ ISIS®, and slower local drives.
Control up to 12 Pro Tools|HD systems from one using the Satellite Link option.
Mix audio from up to two Pro Tools|HD systems with a D-Command® control surface through Multi-mode.
Pro Tools 10
New Pro Tools 10 software adds major new features to the world's leading digital audio workstation, delivering on top requests from both audio post and music professionals.
With it, Avid introduces several new tools and timesaving workflows, such as the top-requested Clip Gain, which separates pre-mix levels from Pro Tools software's renowned mixing automation, greatly speeding up and improving the workflow between sound editors and mixers.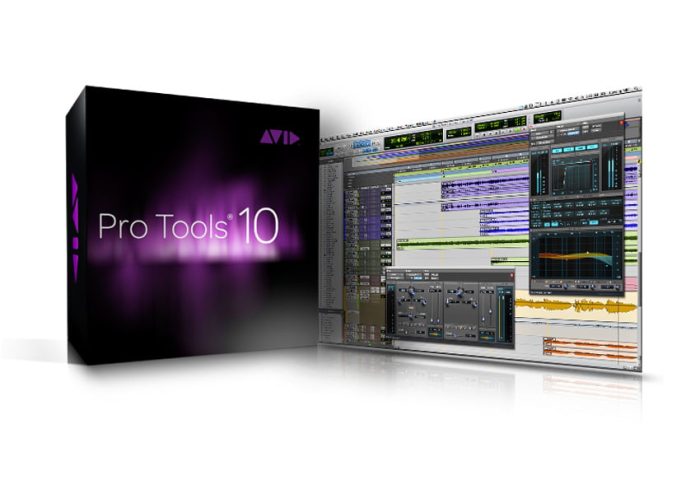 Customers will also be able to achieve higher sound quality and better performance than ever, whether they're recording, composing, editing, mixing, or playing back their sessions.
Pro Tools 10
Work faster and easier with the most robust tools

Speed up pre-mix and editing workflows with Clip Gain.
Experience better performance—even on network-attached or slow local drives—with disk handling improvements and real-time fades.
Get more flexibility—and 24-hour timeline capability—when conforming multiple projects into a single timeline.

Sound your best, faster than ever

Use multiple file formats and mixed bit depths in the same project—including interleaved—without converting files.
Record, edit, and mix in higher resolution with 32-bit floating-point file format support.
Get the sound of the renowned System 5 console EQ and dynamics with the Avid Channel Strip plug-in, now included with Pro Tools 10.
Avid has also announced the Avid Vantage™ Program, an annual membership program for Pro Tools customers that provides many great benefits.
Avid Vantage subscribers receive unlimited online technical support, plus deeply discounted expert phone support when they need it. They also gain access to a great collection of audio plug-ins, and for a limited time they'll receive a high-value Avid Store coupon that can be applied to new software purchases or upgrades.

In addition, Pro Tools customers can also upgrade their membership to include hardware coverage for an Mbox®, Eleven® Rack, or 003® audio interface or a Pro Tools|HD system, protecting valuable investments and delivering peace of mind with advanced hardware repair or replacement—even when the product's warranty has expired.
Availability and pricing
Pro Tools|HDX – Complete Pro Tools|HDX systems, which include the Pro Tools|HDX PCIe card, Pro Tools HD 10 software, and a choice of Pro Tools HD Series interface, will be available worldwide on November 18, 2011. Pricing is as follows:
New Pro Tools|HDX systems start at $9,999 US MSRP.
Pro Tools|HD 1 owners can crossgrade to Pro Tools|HDX starting at $7,999.
Pro Tools|HD 2 owners can crossgrade to Pro Tools|HDX starting at $6,999.
Pro Tools|HD 3 owners can crossgrade to Pro Tools|HDX starting at $5,999.
Pro Tools|HD Native owners can crossgrade to Pro Tools|HDX for $7,499.
Pro Tools 10 software – Pro Tools 10 software is available worldwide now. Pricing is as follows:
Pro Tools 10 software (full version) retails for $699 US MSRP (please note that Pro Tools HD 10 software is bundled with Pro Tools|HD family systems only, and is not available for separate purchase except as an upgrade).
Pro Tools 9 owners can upgrade to Pro Tools 10 for $299.
Pro Tools HD software owners can upgrade to Pro Tools HD 10 starting at $999.
Crossgrade pricing is also available for owners of Pro Tools LE®, Pro Tools M-Powered™, and Complete Production Toolkit.
The new Avid Vantage Program will be available worldwide in Q4 2011 to Pro Tools users with all of the great benefits described above, for $149/year US MSRP. Customers who purchase Avid Vantage for Pro Tools can add additional coverage for Mbox family, 003 family, and Eleven Rack hardware purchases for $29/year US MSRP, and for Pro Tools|HDX, Pro Tools|HD Native, and Pro Tools|HD hardware purchases for $299/year US MSRP.