Avid has announced the release of Pro Tools | Dock, a portable, affordable surface that gives audio and music professionals intelligent studio control.
Delivering on Avid Everywhere™, Pro Tools | Dock provides users a combination of touch and tactile control to create better sounding mixes more efficiently. Working together with an iPad running the free Pro Tools | Control app, users get the access, integration, and precision to edit and mix faster and more creatively than ever.

Powered by the Avid MediaCentral™ Platform, Pro Tools | Dock is based on the advanced touchscreen workflows of the award-winning Pro Tools | S6 and the hybrid touchscreen/hardware control of the bestselling Avid Artist | Control surface. Users can navigate large projects quickly and access any track instantly on the iPad touchscreen, bringing it to the surface fader, knobs and switches.

With Pro Tools | Dock, users can work with their favorite EUCON™-enabled DAWs and video editing tools, including Pro Tools, Media Composer®, Logic Pro X, Cubase, and Premiere Pro. When paired with Pro Tools | S3, users gain new timesaving touch workflows and custom control, making it ideal for mixing music and post projects in smaller spaces—and on smaller budgets.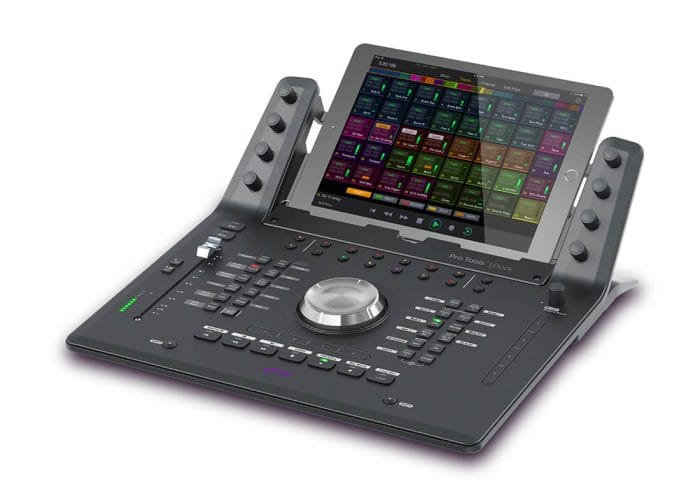 Pro Tools | Dock enhances the free Pro Tools | Control iOS app and the Pro Tools | S3 control surface, allowing music and audio professionals and aspiring pros to:
Get extensive touchscreen control – Pro Tools | Dock will quickly connect with a user's iPad and the free Pro Tools | Control iOS app, providing intelligent control of audio and video projects. The app offers a host of customizable touch controls and visual feedback to improve efficiency, allowing users to navigate huge sessions with ease and bring the channels they're looking for to the surface quickly.
Enhance existing workflows with EUCON – Pro Tools | Dock features EUCON, a high-speed Ethernet-based technology that enables the hardware to communicate directly with EUCON-enabled applications. This lets users work on a Pro Tools project, then switch to other EUCON-compatible audio software, like Logic Pro X or Cubase, in seconds.
Get deep Pro Tools integration – when paired with Pro Tools or Pro Tools | HD, Pro Tools | Dock becomes an extension of the software. Users can access hundreds of key commands, shortcuts, functions, and UI elements without clicking a mouse. Users can even create custom soft keys to perform practically any Pro Tools function and recall layouts to the surface with a single button press.
Bring enhanced touch workflows to Pro Tools | S3 – pairing Pro Tools | Dock with a Pro Tools | S3 control surface delivers even more timesaving workflows and enhanced control. Users can also view additional visual feedback to enhance their mixing experience, like the advanced S6 control surface.
Adjust parameters with a twist – Pro Tools | Dock provides eight touch-sensitive Soft Knobs that extend the functionality of Pro Tools | Control. These push-top rotary controls enable users to interact with whatever knob set they've selected in the app, such as panning, EQ, dynamics and sends. By making adjustments with physical controls, users don't have to focus on their computer screen, enabling them to really listen to how their adjustments affect their mix.
Speed up tasks with Soft Keys – users can click through frequently performed editing and mixing tasks or adapt the Dock to their unique workflow by programming macros to perform more complex tasks.
Navigate the project their way – users can quickly access any channel with the color-coded Track Tiles and scrolling Universe view—no matter how big the session.
Get their hands on important channels – users can work with multiple tracks in Pro Tools | Control, but when they need to focus on a specific track—or want more tactile precision—they can use a single "attention" channel. Users simply select any track from the touchscreen and the channel maps directly to the Dock's surface controls.
Automate tracks with ease – with 12 dedicated automation switches, users can toggle modes and write automation directly from the surface.
The Pro Tools | Dock retails for $1,199 USD.
More information: Avid / Pro Tools | Dock