Avid has announced that over 850 plug-ins from more than 80 Avid development partners are now available in the new 64-bit AAX format for Pro Tools 11, the digital audio workstation that sets a new standard for audio production.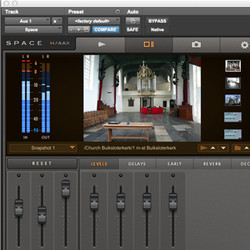 Avid also announced that Avid Space, a premium reverb plug-in used by countless artists and music professionals, has now been released in the 64-bit AAX format. The release completes the transition of Avid-designed plug-ins to the new AAX format for Pro Tools 11 software.
"With over 10,000 Pro Tools|HDX systems sold, there is a fast-growing market for 64-bit AAX plug-ins, not only for Pro Tools|HDX but also for our S3L live system," said Chris Gahagan, senior vice president of products and services at Avid. "More than 850 AAX plug-ins are now available for Pro Tools 11, offering audio professionals more power, higher audio quality, and easier methods to record, edit, and mix even the most demanding productions."

Featuring 64-bit architecture and a new Avid Audio Engine, Pro Tools 11 provides several times more processing power than any previous Pro Tools release. The new AAX 64-bit plug-in format delivers more accessible RAM for increased speed and performance. These powerful new capabilities allow professionals to create faster and deliver higher quality, inspiring content.

Avid Space is a premium convolution reverb plug-in for Pro Tools music and post-production projects, available in 64-bit AAX Native, DSP, and AudioSuite formats. From large concert halls to dense plate reverbs, Space delivers the sounds of natural reverb spaces with familiar controls from high-end hardware reverb units. By combining the sampled acoustics of real reverb spaces with advanced DSP algorithms, Space offers full control of reverb parameters in mono, stereo, and surround formats.

"Avid has already changed the game endless times with their vast array of amazing plugins including the EQ 3, Pro Limiter, Pro Compressor, and others available for Pro Tools 11," stated Junior Sanchez, remixer for artists including Madonna, Gorillaz, Daft Punk, Shakira, and more. "Now that Space is available in the 64-bit AAX format, along with a ton of other amazing Pro Tools plug-ins, now is the perfect time to upgrade to Pro Tools 11."
The Space plug-in is available to purchase for $499 USD / £329 GBP / 399 EUR (prices exclude taxes). The Space upgrade from TL-Space is free of charge.
More information: Avid