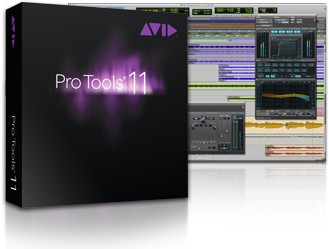 Avid has announced the release of Pro Tools 11, a major upgrade of its digital audio workstation.
This latest version enables audio professionals to "take on the most demanding productions with new, high-powered audio and video engines, 64-bit architecture, expanded metering, and direct HD video workflows".

"Pro Tools 11 represents a quantum leap in creative power," said Chris Gahagan, senior vice president of Products and Services at Avid. "The newly designed architecture turbo-charges production with more plug-in processing, the ability to run more virtual instruments—and a host of new features—letting users create ambitiously, without holding anything back."
Pro Tools 11 features
Fully redesigned audio engine and 64-bit architecture:

New Avid Audio Engine — Delivers multiple times the processing power of Pro Tools 10 on the same hardware configurations.
64-bit architecture — Exponentially increases the number of simultaneous virtual instruments and the performance to handle the most sophisticated sessions.
Offline bounce — Delivers mixes up to 150 times faster than real time.
Low-latency input buffer — Ensures ultra-low latency record monitoring without sacrificing plug-in performance.
Dynamic host processing — Maximizes plug-in count by reallocating processing resources as needed.

Expanded metering:

Extended standards support — Features a broad range of built-in metering standards, from peak and average to VU and PPM, to maintain adherence to regional broadcast requirements.
Gain reduction — Shows gain reduction for all dynamics plug-ins on each channel.

Direct HD video workflows:

Built-in Avid Video Engine — Enables audio post professionals to play and edit a wide range of HD video formats including Avid DNxHD, directly in the Pro Tools timeline without transcoding, using the same core engine as in Media Composer.
Video interface support — Enables monitoring of DNxHD and QuickTime media through Avid Nitris DX, Avid Mojo DX, and other video interfaces.
Pro Tools 11 is available to purchase for $699 USD. Various upgrade options are available to existing Pro Tools users.