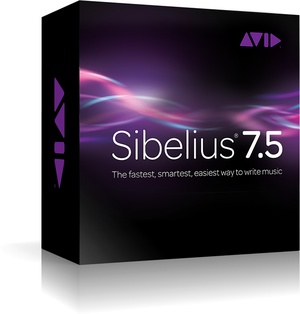 Avid has announced that its Sibelius 7.5 music notation software is now shipping.
Sibelius® 7.5, the new version of the world's best-selling music composition and notation software from Avid®, is now shipping.

Sibelius 7.5 provides innovative new features that accelerate workflows, allowing composers to focus on the creative process and produce more compelling scores, more efficiently.
Changes in Sibelius 7.5
Accelerated navigation—The new Timeline window allows for a quick view of the entire structure of a score for faster editing and playback, no matter how large or complex the score; composers can jump immediately to any section by clicking on any bar in the timecode ruler or on any landmark.
More expressive playback—The fully redesigned Espressivo 2.0 feature delivers complete control over the customization of the rhythmic feel of any individual part of the score, plus improved notation interpretation adds more expressive and realistic feel, and can be customized for swing rhythms.
Improved notation interpretation—Sibelius playback has been greatly enhanced, providing better interpretation of notation distinctions such as tempo markings, metric emphasis, grace notes, mordents, caesuras, and breath marks; composers can now hear every nuance of their score played back in realistic detail, without having to hire an expensive orchestra.
Easy collaboration and sharing—Sibelius 7.5 enables enhanced collaboration and distribution of compositions through innovative score sharing and social media features; scores can be shared through email, uploaded and published as sheet music on ScoreExchange.com, or shared as video or audio files on YouTube, Facebook, and SoundCloud.
Full Scorch app integration—Sibelius scores can be exported directly to Avid Scorch® for iPad for fully interactive playback, practice, performance, and publishing; Sibelius automatically optimizes the score for iPad display, paying special consideration to page orientation, number of staves, margin sizes, and more.
Localized for Brazil and Russia—Sibelius 7.5 includes local language support for Russian and Brazilian Portuguese in addition to English, French, German, Italian, Spanish, Japanese, and Simplified Chinese.
Sibelius 7.5 is now worldwide, priced at $599.95 USD / 486.56 EUR exc. VAT / £479.95 GBP inc. VAT. Various upgrade options are also available.