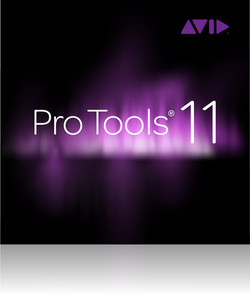 Avid has announced version 11.3.1 of its Pro Tools digital audio workstation software.
Pro Tools redefined the music, film, and TV industry, providing everything you need to compose, record, edit, and mix music and audio. Create without bounds and work at the speed of your creativity, so you can take on the most demanding sessions and deliver the best sounding mixes possible.
Fixes in Pro Tools software v11.3.1
The Pro Tools | HD Native Thunderbolt driver doesn't load properly after upgrading to Mac OS X Yosemite.
When multiple E3 engines are connected together (as part of a shared input VENUE S3L-X system), and at least one E3 engine in the system is connected to a Pro Tools computer, only one of the available E3 engines may be listed twice in the Playback Engine pop-up menu of the connected computer.
Analyze mode in AudioSuite does not work as expected when processing mode is set to "clip-by-clip".
Pro Tools quits unexpectedly when instantiating the default EQ or dynamic plug-in from a EuControl surface.
Automation lags when delay is induced by plug-ins further in the signal chain.
A Pro Tools Satellite is disconnected from the Satellite network posts a "Pro Tools Cannot Stop Playback" dialog.
When a large session on a Satellite system receives a play command while attempting to auto-save, Pro Tools reports a "Pro Tools Cannot Stop Playback" message.
If automation data is lost after using the "TCE Edit to Timeline Selection" command, the command cannot be undone to recover the lost automation data.
Pro Tools quits unexpectedly when recording in QuickPunch mode while banking on an S6.
When using a Video Satellite system, scrubbing in Pro Tools results in an assertion in Media Composer.
Consolidated clips lose embedded rig settings with Eleven Rack.
When stopping DPE recording, the playhead "parks" (rolls back into previous recording). Consequently, when playback is engaged, you hear the last bit of the previous recording.
EQ knobs and buttons on a EUCON control surface do not respond when they are changed from the plug-in GUI in Pro Tools.
Automation is delayed when using a VCA track.
With more than 90 ISIS workspaces mounted, AVE connections time out.
The update is free to download for registered Pro Tools 11 users.