Avid has announced version 7.5.1 of its Sibelius notation software for Windows and Mac.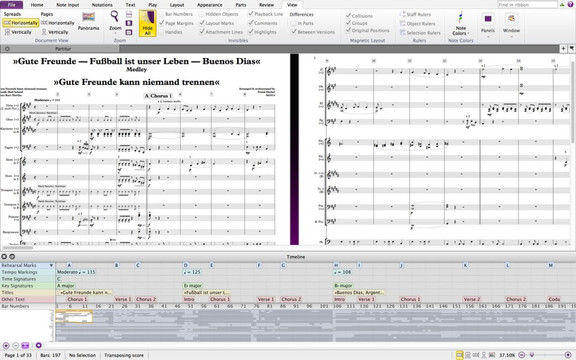 In today's competitive industry, composers need cutting-edge creative tools that enable them to unleash their creativity and deliver professional scores more efficiently.

Today, we are pleased to announce an important update to the music notation tools in the Artist Suite—Sibelius 7.5.1. This milestone update allows you to turn your creative ideas into fully realized scores more quickly and easily with important fixes and improved performance and stability.
Changes in Sibelius v7.5.1
Highlights

Sibelius 7.5 Reference and What's New Guide have been fully translated into all 9 languages.
Audio and video export now occurs faster than real-time.
It's now possible to have both Sibelius 7 and Sibelius 7.5 activated on the same computer (within the terms of the license).
Better support for high resolution displays on Windows; specifically, the QuickStart now displays properly.
An old problem going back several versions of Sibelius has been fixed where Sibelius would crash after the computer was woken from sleep.
A problem where the breath mark "comma" produces staccato playback has been fixed.
Sibelius and the Sibelius License Server will now run correctly once more on Mac OS 10.6 and 10.7.
Resolved a crash that could happen if a score has more than 128 instruments.
We've fixed a problem where some Rhythmic feels may have been missing from the Performance dialog.
Sibelius 7.5 no longer crashes if using a 'Jump to' and 'Marker' repeat structure.
Mordents and Inverted Mordents now play back correctly.
Ties now play back correctly again when using Repeat Bars.
Preferences stored by plugins are now correctly saved.
Video export and sharing to Facebook and YouTube have been improved.
Playback line is no longer a beat behind (this accuracy varies depending on your playback device).
Problems posting to Facebook have been resolved.
The tempo in the score is correctly reflected in the video.
Further fixes to make the connection with Sibelius and Pro Tools more reliable when using ReWire.
It's possible, once again, to install Sibelius silently on Windows.

Timeline

Long instrument names are now clipped to show more of the Timeline.
Focus on Staves is now reflected in the Timeline.
More musical symbols are displayed in the lanes (Repeats and Metric Modulations, for example).
Text and symbols are displayed on more appropriate lanes.
It's now possible to click+drag around the Timeline to navigate the score, similar to how the Navigator works.
Hidden objects are now reflected in the Timeline and honor the option in View > Invisibles > Hidden Objects.
F# Minor now shows as F# Minor on the Key Signatures lane.
Comments are now shown in the Timeline with the same color they appear in the score.
Various performance optimizations.

Accessibility

Improved the way objects, menus and dialogs in Sibelius are read by screen readers, specifically when using NVDA on Windows.
Some brand new plug-ins for Sibelius 7.5.1 that aid navigation of staff and system objects in the score. These plug-ins and supporting documentation for the improvements will be published soon.
The latest version of Sibelius 7.5 is now available to download.
More information: Sibelius