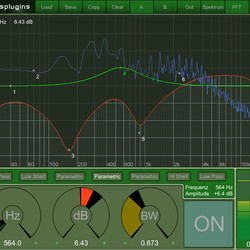 Axis Plugins has announced the release of its 3Q equalizer effect plug-in for Windows and Mac.
3Q is using the same advanced algorithms as the axisplugins Track EQ, but with a fixed number of 7 filters. Choose from traditional filters like hi/low pass, hi/low shelf and parametric. Each filter offers a range of parameters for adjustment.

3Q's versatility does not end with the selection of filters it offers. Place your filter where desired by dragging directly in the filter graph or by using real-rotary-controls. Make precise changes to your filter's parameters using the plus/minus controls. Enable or disable filters on the fly. Of course, only enabled filters use your processing power.

Two workspaces allow you to create and compare changes to your 3Q to zero in on the ideal settings for your mix. Boost or cut your signal by +/- 24 dB. Save and load settings that will be available to you in any host. 3Q supports sampling rates up to 192kHz.
3Q features
Supports sampling rates up to 192 kHz.
7 filter blocks.
low/hi pass, low/hi shelf and 3 parametric eqs.
Controllable frequency, gain, bandwidth, slope and q per filter.
Enable/disable filters.
Processing power only used for active filter.
Output peak hold meters with rms indicators.
Stereo output trim fader with +/- 24 dB boost/cut.
Factory Presets.
Integrated 'SAVE' and 'LOAD'.
Host-based parameter automation.
Copy settings between workspaces.
Two workspaces for instant parameter comparision.
Adjust filter settings using rotary controls or sliders, dragging a filter's handles on the filter plot or using arrows to nudge.
A 12-month license subscription for the 3Q plugin for Windows and Mac (VST/AU/RTAS) is available to purchase for 39 EUR. This includes all current and upcoming plugins.
Visit Axis Plugins for more information.