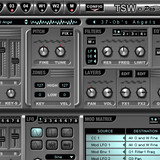 Back In Time Records has released The Second Wave Pro II VST, a sample-based synthesizer workstation which comes with a 2.4 GB sample library and over 2,000 presets.
The concept behind the new TSW Pro II is providing the unique soundworld of sample-based synthesizers in the tradition of the famous 80s instruments Roland D50, Korg Wavestation, Ensoniq VFX.

The sample content covers analog and digital synth samples, acoustic and electric and typical ethnic instruments as well as a massive collection of sound effects, scenes and atmospheres. A special section with pure attack one-shots allows the typical layering of them together with strings, pads, choirs to create those fantastic layer sounds. And the wavesequencers make the pads moving like nothing else.

TSW Pro II combines the world of the 80s with today's high quality sampling technology and experienced sounddesigner's tricks. Now you can have the beloved 80s sounds and brandnew sound creations too!
TSW Pro II VST features
Wusik 5 engine powered instrument.
2.4 GB sample library with 2000+ presets.
Low CPU usage, 4 layers, 2 wavesequencers, 2 FX, multi-timbral.
TSW Pro II is available as a VST instrument for Windows PC for 98 EUR. A "sample library only" version for Wusik 5 compatible plug-ins costs 88 EUR. TSW Pro users can upgrade to TSW Pro II VST for 29 EUR.
Visit Back In Time Records for more information and audio demos.