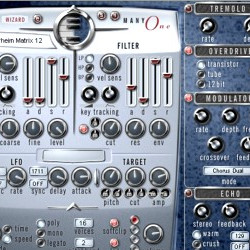 Back In Time Records has announced version 2.0 of ManyOne Deluxe, adding 31 new multisample instruments (212 MB) and presets to the virtual instrument library for Windows and Mac.
Back to the roots – this easy handling sample-based synthesizer is a pleasure to work with. Equipped with a huge 4.2 GB sample library and over 450 Presets with a clear focus on the 70s and 80s vintage synthesizers plus EPs, Clavinet and Piano. Handpicked samples taken from all the legends: Yamaha CS80, Minimoog, Korg MonoPoly and MS20, Yamaha DX7II Centenntial, Minimoog and many more. Also included are the famous string ensembles like the Solina, the tape-based Mellotron with it's Choirs, Flutes and Violins. Synth Leads, Basses, Pads and each one is a great sound.

It comes with vintage E-Pianos too: CP80, Rhodes, Wurlitzer, Clavinet and even the famous DX7 EP. And legendary tone-wheel organs!

The clear and straight back to the roots handling concept: Just one page, no menus or subpages. Select a sound and play it, that's it. If you want to change something to make the sound even more suitable to your music you don't need to read dozens of owner's manual pages – the entire parameter set is visible with one view. A helpful extra sound design tutorial is included though. Finally you can concentrate on your music instead of learning overfeatured parameter monsters and how they work.
ManyOne Deluxe for Windows and Mac (VST) is available to purchase for 79 EUR. The update is free for existing ManyOne Deluxe users.
More information: Back In Time Records