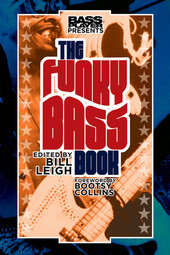 Backbeat Books has published The Funky Bass Book, a collection of funked-up wisdom and inspiration for bass guitar in partnership with Bass Player Magazine.
Edited by Bill Leigh, former editor of Bass Player Magazine and with a foreword by the always entertaining Bootsy Collins, The Funky Bass Book is part history, part wisdom, and part inspiration from the roots of R & B, soul, and funk to the flame-tending funkateers of hip-hop, neo-soul, and gospel of today. With interviews and analyses from both groundbreaking old-school innovators and ongoing revolutionaries – players like Larry Graham, Anthony Jackson, Chuck Rainey, Bootsy Collins, Stanley Clarke, Victor Wooten, Meshell Ndegeocello, and Andrew Gouche – the secrets of how to take a groove and make it funky are revealed.

The Funky Bass Book is written in chronological sections, beginning with The Funky Founders in the 1960's and continuing through the 70's and 80's as the Funk Bass Flourishes before entering the 90's through today covering the Modern Funk Bass. In-depth interviews with the players reveal a first-hand account of the evolution of funk bass playing. Throughout the book, sidebars called "Deep Cuts" point readers to recorded tracks that illuminate the text with examples and insights about the playing or the actual recording sessions.

For bass players, musicians, historians, and music fans, The Funky Bass Book digs deep into the grooves that have moved generations, illuminating what lies at the heart of funk.
The Funky Bass Book is available to purchase from Hal Leonard for $14.99 USD.
More information: Hal Leonard