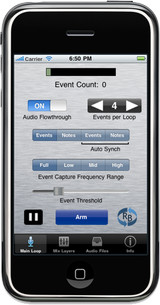 Backline Engineering has released the RiffBox App, an audio looper software for iPhone/iPod/iPad.
With RiffBox you can easily create audio tracks that automatically play back over and over again (also known as audio looping). Become a one-man band, capture a musical idea or practice your beatboxing skills. By detecting repeated notes or rhythm patterns that you play or sing, RiffBox uses patented technology to automatically recognize and create perfectly timed loops. Change the loop length by timing them to notes or chords that you play. An unlimited number of layers can be added to create complex musical passages. Store your music in a loop library and e-mail loops as WAV files, or download basic rhythm loops from the web. RiffBox offers many exciting looping features.
RiffBox App features
Multiple ways you can create a basic loop:

Based on the number of notes or chords played.
Starting after you play the same note for a second time.
Recognizing rhythm patterns to determine the loop you are playing.
Recognizing note sequences to determine the loop you are playing.
Press a button and manual mode starts looping on the very next note.
Restrict the frequency range of notes or rhythms that are recognized.
Automatically create click-tracks as the basis for your loops.
Download basic rhythm loops such as drum patterns from the web.

Loop length is only restricted by the available memory in your device.
Record and mix 4 additional audio layers at a time.
Use the mixdown function to add an unlimited number of audio layers.
Change the loop length timed to the audio 'events' that are part of the loop.
Save your work in a loop library.
E-mail the base loop or all loop layers as WAV files.
Use the built-in microphone, the headset microphone or special instrument cables.
The RiffBox App is available to purchase from the iTunes App Store for $4.99 USD.
More information: Backline Engineering / RiffBox App