At the 141st AES Convention in Los Angeles, analogue gear manufacturer BAE Audio has announced the launch of its new G10 equalizer.
The G10 is a 500 series 10-band equalizer with transformer balanced input and output and hi/low-pass filters, making it a versatile analogue sound shaping tool for tracking, mixing, and mastering.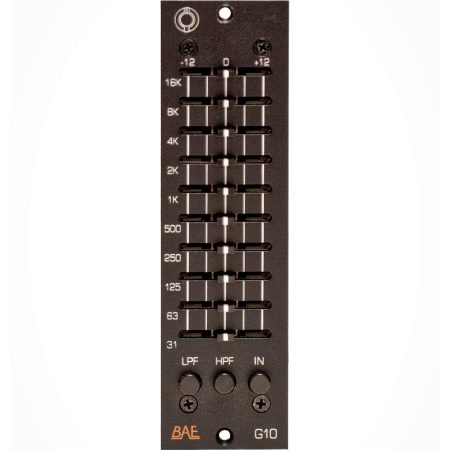 The unit, first unveiled at the 139th AES Convention, adds to BAE Audios growing 500 series offerings with a punchy, transformer-balanced signal path, versatile 10-band graphic EQ configuration, and 2520-style op-amps. This versatile studio tool has applications from tracking to mixing to mastering, its tone shaping capabilities making it an all-star for tweaking drum or guitar sounds or sweetening an entire mix.

10 Bands of Analog Goodness
With 10 carefully selected bands offering up to 12 dB of boost or cut on tap, the G10 offers a level of tone sculpting that can help any audio sit perfectly in the mix. The easy-to-use slider-based interface helps users intuitively visualize the EQ curves they are applying. Switchable high-pass and low-pass filters, tuned at 80 Hz and 12 kHz respectively, help make the G10 a truly complete sound shaping solution.

"10-band graphic EQs are a popular studio tool because of their ability to sculpt your sound precisely so that it fits just right in your mix," says BAE Audio CEO Mark Loughman. "With the G10 we're providing that functionality with BAE's trademark superior components and build quality plus an innovative implementation of input and output transformers in the path. As a result, the G10 is both versatile and great sounding and will shine on any source in any stage of the recording process."

Unique Signal Path
The G10 features input and output transformers that imbue any audio passing through it with a unique tonal character. "The transformers give the G10 an incredibly tight sound that has plenty of punch without harshness," Loughman says. "It has a color and personality to it all its own and provides a nice counterpoint to the British-designed BAE EQs that you probably already have in your lunchbox."
The G10 is shipping now and is available through authorized BAE Audio dealers.
Also available now is the Hot Fuzz, a dual-stomp boost/fuzz pedal that combines classic 70's fuzz with a vintage top boost. This is BAE Audio's first product for guitarists.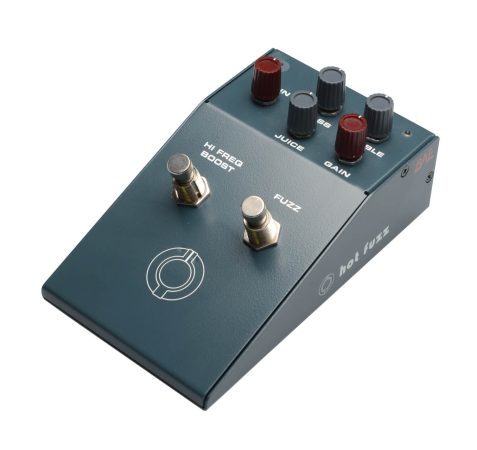 While BAE Audio's preamplifiers and DI boxes are already popular with guitar players, this marks the first product intended specifically for guitar players by the company.

The genesis of the Hot Fuzz began with a personal quest for a long-lost tone by BAE Audio CEO Mark Loughman. "I'm a guitar player myself, and I didn't feel like there was a stompbox on the market that captured the singing sound of a classic 70s fuzz, the kind that just cuts right through the mix," Loughman said. He delved deep into 70s era fuzz technology in his quest for the right tone and was ultimately able to isolate the key components and locate suitable transistors to recreate it. "My reference point was the lead guitar tone on the Isley Brothers version of 'Summer Breeze,' and I would say we nailed it," Loughman says.

Loughman, an avid user of a vintage treble booster, knew putting the classic fuzz he'd captured and a recreation of the classic treble booster under one hood would exponentially expand the tone possibilities of his new stompbox. With two independent true-bypass footswitches control the boost and fuzz sections of the pedal, the Hot Fuzz enables users to dial in their perfect fuzz tone, then kick in the boost at a key moment to push their saturation over the edge. The boost section features a single gain control, while the fuzz section features controls for bass, treble, juice (fuzz), and gain (output). Like all BAE Audio products, the Hot Fuzz contains all discrete components and is hand-wired in California.

Loughman is pleased to launch the Hot Fuzz as BAE Audio's first entre into the area of guitar effects. "Guitarists, like recording engineers, are very discerning about the sounds they're chasing," he says. "BAE Audio has delivered first class studio tools that meet engineers' highest standards for many years, and we're happy to offer something in that spirit for guitar players. It will also allow those guitar players who are not yet familiar with our studio gear a chance to experience BAE Audio quality for the first time. What they may not know is that there is no going back."
Both the G10 and the Hot Fuzz are shipping now and are available through authorized BAE Audio dealers.
More information: BAE Audio