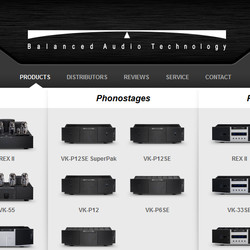 Balanced Audio Technology has announced it will celebrate its 20th anniversary at CES 2015 with the introduction of four new products: the VK-23SE and VK-43SE solid-state stereo preamplifiers and the VK-225 and VK-225SE solid-state stereo power amplifiers.
We cordially invite you to experience BAT's refreshing approach to audio design and 20 years of audio engineering expertise at The Venetian during show hours at the show, taking place January 6-9 in Las Vegas.
The VK-23SE preamplifier, like all BAT preamps, features fully balanced circuit topology throughout. The VK-23SE utilizes BAT's exclusive Unistage™ single-gain-stage, zero-feedback design, the shortest possible signal path and more to achieve superb resolution and musical accuracy. (SRP: $4,995.)
The VK-43SE is the company's new top of the line solid-state preamplifier. It is a dual-monaural design and incorporates BAT's Unistage zero-feedback topology and many additional refinements for extraordinary musical realism. The VK-43SE's massive power supply delivers extremely wide dynamic capability (SRP: $8,995).

The BAT VK-225 amplifier uses a discrete bipolar output transistor design to provide exceptional clarity and dynamic authority. It delivers 150 watts per channel power output into 8 ohms, and features audiophile-grade components throughout, the shortest-possible signal paths with zero negative feedback and other attributes for superlative sound (SRP: $4,995). The VK-225SE amplifier (SRP: $6,495) adds BAT's SUPER-PAK power supply circuit with greatly increased energy storage capacity, to convey music with effortless dynamic authority, nuance and realism.
At CES 2015, BAT is also showcasing its flagship REX II vacuum-tube stereo preamplifier and power amplifier and a host of its ultimate-performance audio components in a complete audio system featuring the AVID HiFi Diva II SP, Sequel SP and Acutus Reference SP turntables, Solidsteel's new S3 and S5 entertainment racks and more.
The new Balanced Audio Technology components can be heard at The Venetian, Las Vegas, NV, Suite 29-122, during show hours: Tuesday, January 6th – Friday, January 9th. You may also schedule an appointment to visit the room. Geoff Poor, Director of Sales for Balanced Audio Technology; Steve Shade, Director of International Sales; and other key people will be on hand to give you the news about Balanced Audio Technology's latest components.
More information: Balanced Audio Technology