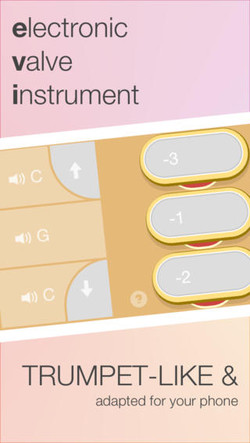 Bartlomiej Niemtur has announced EVI (Electronic Valve Instrument), a trumpet practice app for your phone.
Struck by inspiration but got nothing to play on? Ever wanted to practice fingerings, but couldn't?

Imagine what would it be to carry an instrument with you, ready to play anytime, anywhere. A tool that is practical, comfortable and fun.

Enter EVI app, an Electronic Valve Instrument, modeled after a real-world trumpet and adapted to your phone.
EVI features
Focuses on simplicity and usability.
Big buttons, play even without looking at the screen.
Valves placement and behaviour just like in the real trumpet.
Practical, play any trumpet note, anytime, anywhere.
Modern design, friendly interface, intuitive animations.
Uses a simple, universal synth sound..
No blowing into the microphone; use buttons instead. Three additional buttons correspond to blowing and embouchure changes, they're easy to reach and provide a more comfortable experience.
The EVI app is available for purchase from the iTunes App Store for $1.99 USD.
More information: EVI (Electronic Valve Instrument)