Plugin Boutique has released two new expansion packs for the Bass Master virtual instrument from Loopmasters.
Bass Pick Up offers a collection of 50 distinctive and rich bass tones recorded from various upright and electric basses, driven through amps and outboard equipment to deliver ultimate punch and character.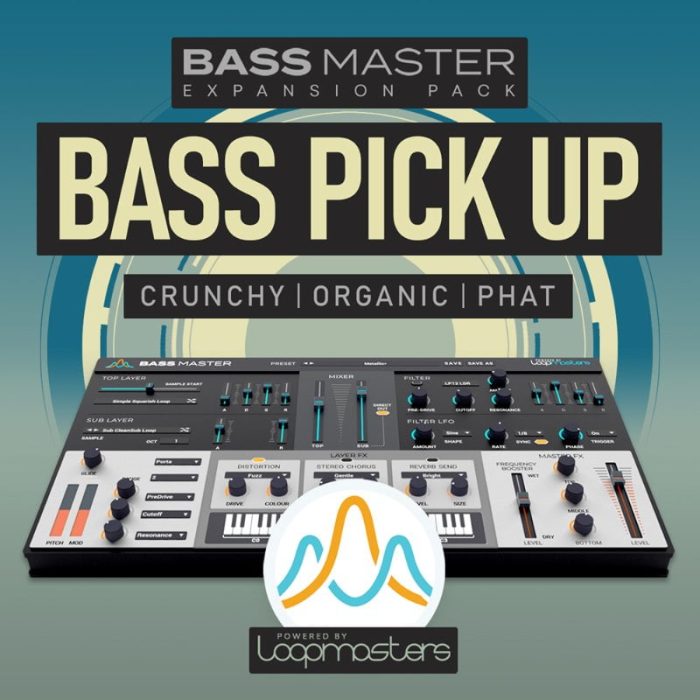 The raw samples will give instant gratification and cover the huge range of low end tones and effects that can emanate from the best four strung beasts. Expect to wah, fuzz, distortion, plucked, strummed, slides, slap-back, snappy and punchy bass throughout this collection. If you like your bass REAL, Loopmasters have you covered!
Back Pick Up includes:
15 High Sounds.
6 Low Sounds.
8 Mid Sounds.
9 Percussive Sounds.
7 Simple Sounds.
5 Sub Sounds.
9 Simple Presets.
7 Sub Presets.
9 Swaggy Presets.
14 Low Presets.
12 Mid Presets.
15 Harsh Presets.
8 Smooth Presets.
8 Modulated Presets.
10 Percussive Presets.
Also available is Proxima Bass Annihilation, a collection of 53 dark and destructive bass tones designed by the legendary producer Proxima.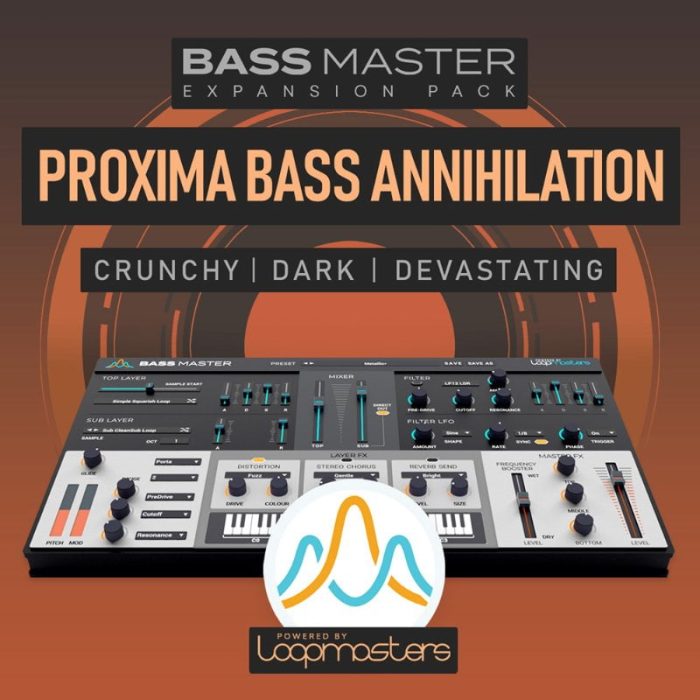 The sounds are specifically designed to be the centrepiece of your bass music productions especially if you produce DnB, Dubstep or Future Bass.
The raw samples are crunchy, aggressive and heavily processed so expect pure sound system devastation. Expect to hear angry growls, punchy subs, sinister synths and chunky percussive sounds to expand your Bass Master palette. The Collection also features 100 expertly crafted and expressive bass presets for instant gratification. If you like your bass fat, Loopmasters have you covered!
Proxima Bass Annihilation includes:
7 High Sounds.
14 Low Sounds.
13 Mid Sounds.
8 Percussive Sounds.
5 Simple Sounds.
6 Sub Sounds.
11 Sub Presets.
22 Low Presets.
16 Mid Presets.
7 Harsh Presets.
9 Smooth Presets.
10 Modulated Presets.
4 Percussive Presets.
8 Rythmic Presets.
13 SFX Presets.
The expansions are available for $19 USD each. They are also included in the Bass Master Bundle and Bass Master Expansion Bundle, currently on sale at up to 60% off regular.
More information: Plugin Boutique