Audient has announced that bass player Aaron Patrick cited the Audient USB audio interface iD22 as "…an integral part of the process for the upcoming new record", referring to the eighth album to be recorded by American band, All That Remains.
Total worldwide album sales have exceeded a million to date, and this latest one is being produced by twice Grammy-nominated producer, Howard Benson (All American Rejects, My Chemical Romance, Kelly Clarkson).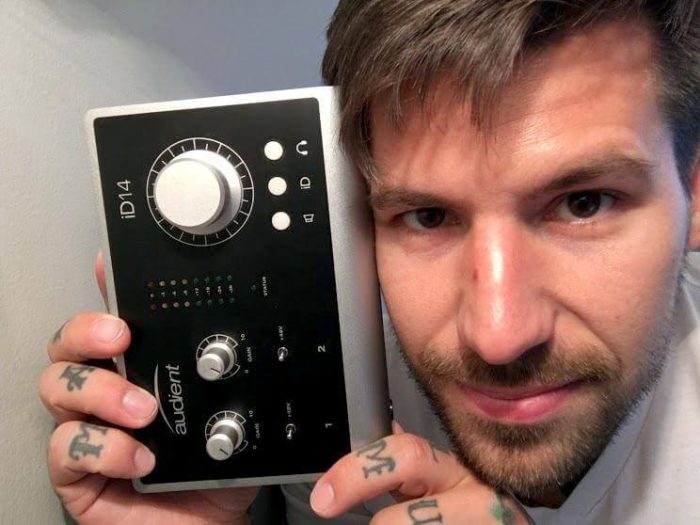 "I've used other interfaces before but this is hands-down my favorite. When you send a producer demos for them to go through all of your ideas, they have to sound pro and clean. The iD22 without a doubt has contributed to that," clarifies Aaron.

The iD22 was certainly a valuable addition to his setup before they got into the studio. "I love that you can do everything from DI lines to complete live sessions all at once," he says, so pleased with the iD22 unit that he bought himself an iD14 as well. "I leave the iD22 in our rehearsal space for all our demoing and monitor needs, and I bring the iD14 on tour because it's so much more compact. That's all you need – plus a pair of headphones and great instrument software – to lay down ideas on the bus or dressing room. It really makes life easy, writing on the road."

Having joined last September Aaron is the newest member of the metal band, but hasn't taken long to settle in as he's joined them on a number of their sell-out tours. He is very excited about their latest project, which is currently being recorded in Benson's LA studio. "I can't even wait to hear the final result. These songs are such a step up on all fronts," he says. "He [Benson] is really bringing out the best in all of us as musicians and we are already so proud of the progress towards new material."

Honing his bass-playing skills with Bury Your Dead, Devildriver and Lamb of God (among others), Aaron has a very clear idea of the bass tone he is after. "Each person is different in what they are looking for, and how they attack bass. Me personally, I'm all about the big warm lows, completely scooped low mids and just enough high mids to get a clear attack," he says, adding, "I can't stand when I hear a cloppy bass tone – I want to feel those notes resonate and move the air!"

Joining a band with an 18-year history could be tricky, but Aaron is lucky in that he's been friends with them for a lot of that time, and describes the new mix as "a perfect fit. Everything feels complete and we have a great time together." Which is just how it should be.
Check the ATR website for album release dates and to find out when they're playing live.
More information: Audient