Online bass learning website Bass Road has just opened its doors, welcoming new members into the academy.
If you're looking to improve your bass playing through high-quality online bass courses, lessons, and interactive assignments then you should definitely check out what this website has to offer. It's worth noting that Bass Road is fully mobile friendly and optimized for those who prefer to use mobile devices such as smartphones and tablets for learning online.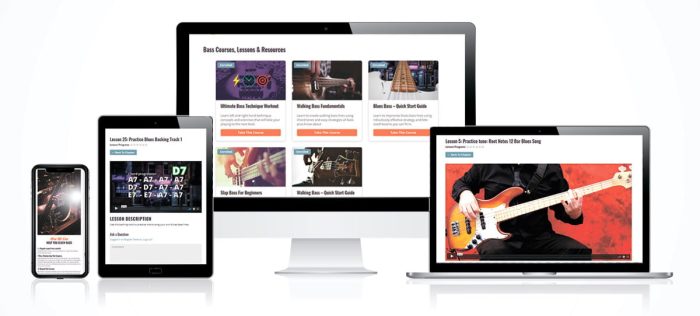 The Bass Road is a bass instructional website founded by the professional bass player and instructor Bogdan, known for teaching bass online to thousands of students over a decade, through various websites and platforms. The idea was to create a bass player's secret hideout where members can go to get access to high-quality bass instruction and straightforward advice.
Bass Road is an ultra-helpful online bass corner, where bass players from all around the world can get access to quality bass courses and practical training resources on all the most important topics that will help them build their skills from ground zero. This instructional website is most suitable for absolute beginner bass players as well as intermediate bass players.
Members get inspired to practice bass regularly while getting to experience how it is to really go beyond passively watching a course online. They learn first-hand how it is to compose a bass line, record their playing and get experience shooting videos – all with the goal of making quick progress on the instrument while having heaps of fun. Members of Bass Road learning website get to apply everything they learn – right there through an interactive e-learning platform, performing various bass tasks, challenges, and missions.
All Bass Road members get the following benefits:
Instant access to all premium courses & resources archive
Access To Bass Missions
Bass tabs in PDF & Guitar Pro format
Support From Qualified Bass Instructors
Learning bass guitar online on your own is not easy, as you have to navigate a maze of subpar instructional content and information that's confusing. But, it's certainly possible with the right strategy.
Boss Road subscriptions are available at $9.99 USD/month. You can sign up for a FREE bass course and get instant access to seven most important lessons every bass player needs to master.
More information: Bass Road