Gospel Musicians has launched the BASSalicious Plugin, a dedicated synth bass plugin with a single focus on sound.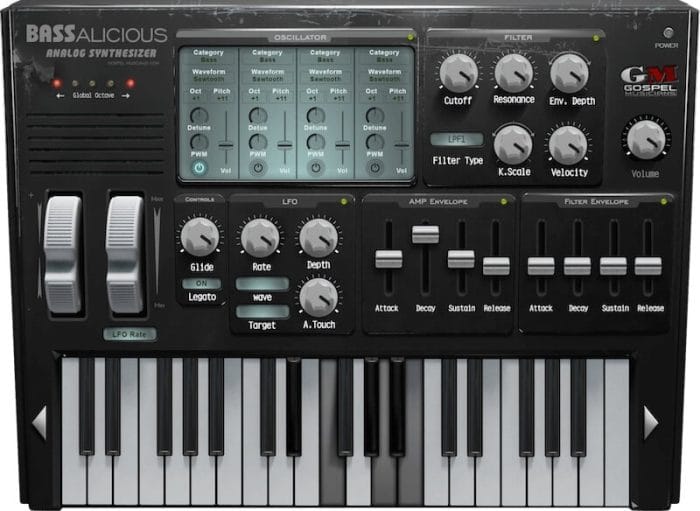 All of the synthesis and filters are custom tweaked with our own personality and our urban ear. When we first set out to produce BASSalicious, it came from a need we had: All of our plugins come from a musical need first.

We noticed that there were a ton of synth bass libraries out there that focused solely on dubstep and wobble bass sounds, but not that much out there for the urban community and that pure synth bass classic sound. Sure there are the sample based ones, but you run into problems with samples when trying to produce a realistic glide effect that is so essential to urban synth bass music. The other thing we were dissatisfied with were the oscillators themselves. You see, in order to reduce aliasing, most wavetable synths reduce the bandwidth and filter out frequencies so it doesn't alias. The problem with this is that you filter out the good stuff along with it. We figured out a unique compromise, where we can give you the full band of the wavetable, while at the same time reducing aliasing.

Our method is very unorthodox, but it works, because the technology will always take a back seat to the sound, and not the other way around: "If it sounds good, then it is good."
The BASSalicious Plugin for Windows and Mac (VST/AU/Standalone) is available for the introductory price of $79.99 USD until May 25th, 2016 (regular $99 USD).
You can get an additional 10% off by using coupon code rekkerdbass at checkout. Redeem to code on the bottom of the cart page to take advantage of this offer.
More information: Gospel Musicians / BASSalicious Plugin