Plugin Boutique has launched a sale on UVI's virtual instruments and plugins, offering discounts of up to 50% off for a limited time.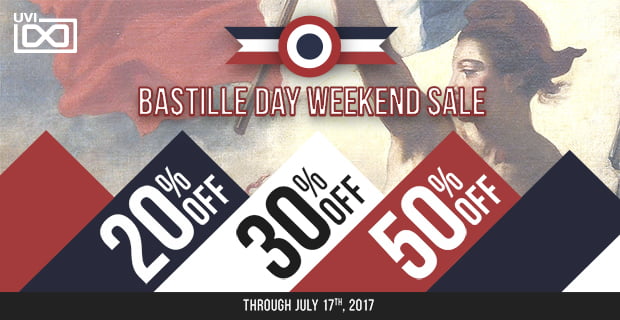 UVI celebrate Bastille Day and offer up-to 50% off the majority of their fantastic virtual instruments & creative effects. Save for a limited time only at Plugin Boutique.
The sale includes popular titles such as the Synths Anthology II collection that features sounds of 77 hardware synthesizers, the Vintage Legends instruments bundle, and BeatBox Anthology 2, the massive collection of vintage, modern and unique drum sounds sourced from 111 hardware drum machines.
Effect plugins such as the Relayer delay, Sparkverb algorithmic reverb, and Thorus polyphase modulator are on sale at 30% off.
The offer ends July 18th, 2017.
More information: UVI