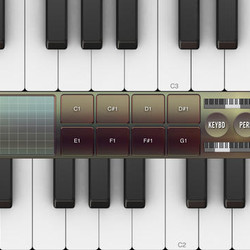 batZode has announced Blowfinger, an app that turns any iPad into a breath or wind controller.
Musicians blow across an iPhone mic – or any other mic – and the wind noise is converted into a MIDI continuous controller. The instrument can send notes from the onscreen keyboard or woodwind touch keys (which use a very simple and intuitive fingering system). Or it can just function as a MIDI breath controller.

Blow, finger.

"We designed this app to take the place of expensive, inferior hardware breath controllers," programmer Stephan Podell says. "It's also a fantastic auxiliary controller for playing MIDI instruments."
Blowfinger features
Blowfinger Keyboard mode

Velocity-sensitive keyboard allows you to glide between notes in a way not possible on a regular keyboard, making this an excellent musical performance addition to any set-up.
Use the eight utility pads with user text labels to send program changes or keyswitches. Or use them to play drums and percussion – they're velocity-sensitive.
The XY pad offers additional expressive control in both axes, and it can be set to snap back to zero, to the center, or stay where you release it. Choose which MIDI controller is sent in each direction.
Transpose octaves up or down with one tap (either or both keyboard manuals).

Blowfinger Wind mode

Simplified fingerings based on recorder or Boehm system allow anyone who's ever played a wind instrument to pick up Blowfinger right away. You switch octaves with your left thumb, so once you know one octave you know them all.
One size fits all. The keys and the thumb pads can be resized, moved, and stretched all over the screen. Play the instrument on your lap or perhaps a desk in front of you, or move the pads to the sides and hold the iPad up to your belly.
XY right thumb pad. This has the same features as the one in Keyboard Mode, with your choice of snap back behavior and MIDI controllers.

General features

Blowfinger can work as a breath controller without sending notes; in Breath-only mode, blow without fingering and it sends a MIDI controller.
Simultaneous support for Network MIDI over Wi-Fi, hardware MIDI, and inter-application MIDI to control synths running on the same iPad. Also supports rpMIDI for wireless MIDI on Windows.
While it feels great right away, you can personalize the breath response to suit your preference and also to adjust for noisy environments.
Global transposition so you can play in the key of Cb without getting angry.
Blowfinger is available to purchase for $17.99 USD.
Visit batZode for more information.