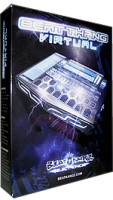 Beat Kangz has released version 1.2.1 of Beat Thang Virtual, a beat production software for Windows and Mac.
Changes in Beat Thang Virtual v1.2.1
Enhanced multi-timbral functionality. Use BTV as a tone module for your MPC or other MIDI hardware or software sequencer.
Increased stability. Includes many reported crash fixes.
Better handling of PACE installations, authorizations and updates.
New Tempo functionality. Tempo window now deals with decimal places. Just hold the shift key and adjust tempo for more precise tempo definition.
Enhanced functionality that makes it possible to upgrade to version 2.0 for use as a plugin in your DAW (AU/VST support coming).
Enhanced Snow Leopard support.
Many OSX 10.6 bugs fixed.
Beat Thang Virtual is available to purchase for PC and Mac, priced at $149 USD.
More information: Beat Thang