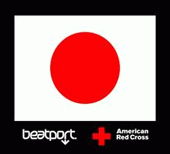 Beatport has announced it is inviting you to help raise funds for the American Red Cross by purchasing music at Beatport on Monday, March 21.
Beyond the fact that electronic dance music as we know it wouldn't exist without Japan's contributions over the years—just consider the numbers 303, 808, and 909—the ongoing crisis in Japan affects us all, on a purely human scale.

For that reason, on Monday, March 21st, Beatport will donate 100% of our day's net proceeds to Japanese relief efforts. Join us by shopping on Beatport.com on March 21st.
More information: Beatport