Plugin Boutique has launched a sale on BeatSkillz, offering a 60% discount on all of its audio effect plugins, virtual instruments and bundles.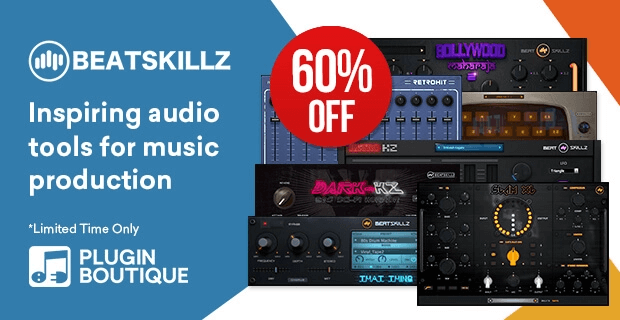 The sale includes popular products such as Synthwave KZ, Soul-Tastik Drums, Synthwave Drums, Bollywood Maharaja Drums, RetroKZ, Dark KZ, the Slam Series plugins, and the Super 80s Bundle:
Super 80s Bundle is everything you ever need to make 80s Revival Music. Power up your Synthwave, Vaporwave, Chillwave music production by using the plugins in this bundle.

Super 80s Bundle, All the included plugins are designed as the ultimate tool for the music producers who want to produce 80s revival music with a modern twist. i.e Synthwave, Retrowave, Vaporwave, chillwave etc.

Super 80s Bundle contains Retro KZ, RetroHIT, Synthwave KZ, Synthwave Drums, Breakdance Drums, Darkkz, and That Thing.
The offer expires January 11th, 2020.
More information: BeatSkillz