Plugin Boutique has launched a sale on the Synthwave KZ rompler instrument by BeatSkillz, offering 75% off regular for the next few days.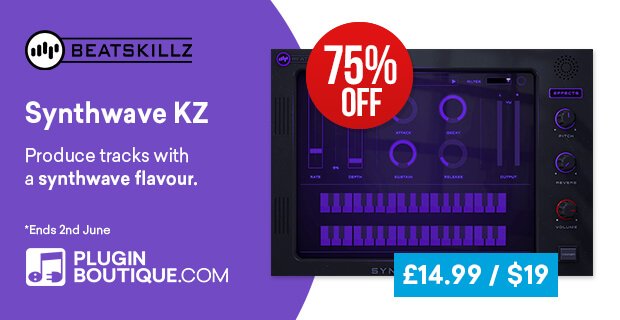 Inspired by the works of artists such as Kavinsky, The Midnight, Com Truise, Mitch Murder, Dynatron and Time Cop, this instrument brings the sounds of Synthwave, Vaporware and NuWave.
This virtual instrument is a collection of 100 fabulous sampled presets from various analog synthesizers running through legendary effects and outboard gear. This process brings a rich and unique "analog" quality that is different from other virtual emulations of real synthesizers.

A wide palette of instantly recognizable sounds from basses leads to pads and effects has been carefully designed and programmed to inspire you. Just plug and play is the motto at Beatskillz. This helps to focus on music and creativity rather than get lost in endless sound tweaking to get results.

Our sample playback engine includes effects such a global pitch, reverb, LFO, ADSR and a multimode filter for further tweaking of the sounds.
Regularly $79 USD, the Synthwave KZ plugin (VST/AU) is on sale for only $19 USD until June 3rd, 2019.
More information: BeatSkillz