Plugin Boutique has launched a sale on the That Thing effect plugin by BeatSkillz, offering over 80% off on the multi-effect plugin that features a soundscape generator for adding textures, chorus, bit crusher and HP/LP filters.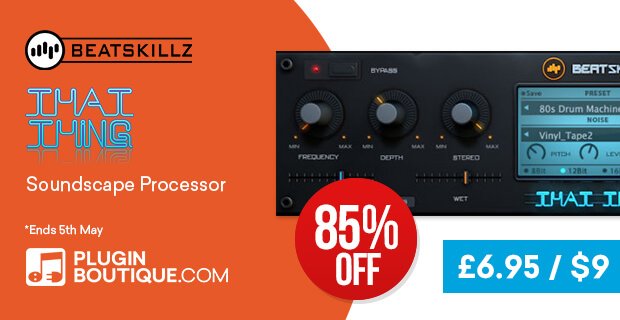 There was something about older drum machines and synths that made them sound punchier and more pleasing than today's clinically perfect sounds.

That Thing is a multi-effects processor that has been designed to get you 'That Thing' missing from digitally perfect tracks today. It features a beautiful wide and deep chorus section great to thicken anything from synths, vocals, bass, pads drums and other sounds. The soundscape generator features samples of old vinyl players, tape machines, old radio, tube gear, atmospheres, ambiences etc – you can even add your own!
That Thing (VST/AU/AAX) is on sale for £6.95 USD / $9 USD until May 6th, 2019.
More information: BeatSkillz