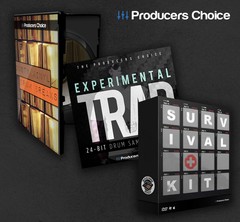 Beatstruggles has announced a new Sound Pack Flyer deal, offering a bundle of three drum kits from The Producers Choice at a discount.
TheProducersChoice 3 Kit Bundle features
Survival Drum Kit: With over 700MB of sounds, and over 140 kicks, this kit brings lots of flexibility to the table. What ever genre you want to create, this is your kit! Plus, 24-Bit .WAV samples for the extra high quality!
Experimental Trap Kit: with over 1.8GB of trap sounds, again with 24-Bit .WAV samples, this is a very unique kit. Really feeling the claps and snares in here. Experimental is definitely a good label for this kit; let your creativity fly!
150 Drum Breaks: Like to chop up your drum loops? This kit must of taken hours to find all those drum breaks! — While browsing through the marjority of them, there are some clean ones, some dirty ones full of vinyl static (for you sampling lovers out there), and tempo and non-tempo labeled breaks.
The bundle is available to purchase for $49 USD (regular $115 USD). The sale ends March 3rd, 2013.
More information: Beatstruggles