Behringer has announced its upcoming Swing, a 32-key USB MIDI controller keyboard with 64 step polyphonic sequencing, chord and arpeggiator modes.
The familiar looking device is designed to automatically integrate with Behringer's future Music Tribe DAW, which is targeted to launch next year and which will be completely free of charge. It will also work with any other DAW or MIDI equipment and it comes with a Control Tribe app, which will be downloadable in the coming week.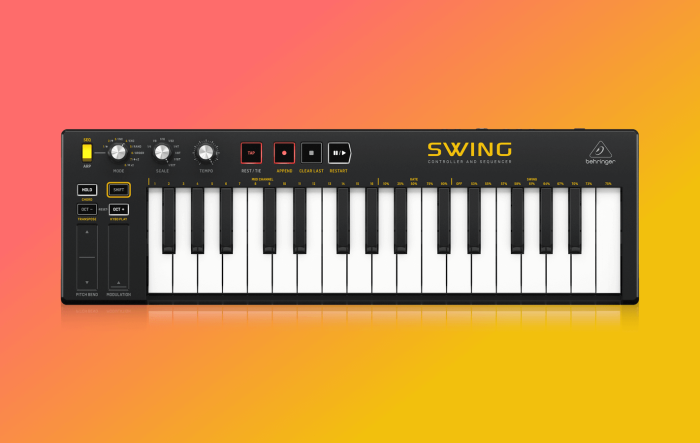 Swing offers full control over any synthesizer or virtual instrument in your DAW via USB or MIDI. It features a 64-step sequencer with an 8-note polyphonic sequence combined with 32 compact-sized keys and pitch and modulation touch-strips provide unlimited ways to express yourself in a compact and portable package.
The SWING's 32-compact-sized keys create a perfect balance between size and playability. The keys give you the ability to create more nuanced and colorful passages with velocity and after-touch functionality. Use the Pitch and Modulation touch-strips to add even more character to your music. Chord Play Mode allows you to play a chord with up to 16 notes with one single key for some really enchanting Trance music. The SWING also features a 64-step polyphonic sequencer so you can create any progression imaginable and even play over it. Switch to Arpeggiator mode and create an amazing string of notes that can sync to the clock of any device the SWING is connected to.

The Mode knob on the SWING can select up to 8 saved programs in Sequencer mode, while in Arpeggiator mode, you can select different playing orders such as up, down, inclusive, exclusive, random, note order, double up and double down modes. Select from 8 different time signatures with the Scale knob and adjust the tempo with the Tempo knob or the Tap button. Press the Record button to start recording a sequence. This also doubles as an Append button when holding down Shift. Use this along with the Stop/Clear Last button and you can edit your sequences and arpeggios on the fly.
Swing will ship next week, priced $99 USD / 89 EUR.
More information: Behringer