Behringer has launched the Rhythm Designer RD-8, a classic analog drum machine featuring 16 drum sounds, 64 step sequencer, wave designer and dual-mode filter.
The RHYTHM DESIGNER RD-8 provides all the tools you need to become a master beat-maker, including: 16 drum sounds; a 64-step sequencer; Wave Designer and dual-mode filter – for a full-fledged drum machine that'll shake the house! Whether you're new to drum programming or a seasoned pro looking to upgrade your setup, the RD-8 has everything you need to step up to the big time.

Great care has been taken in designing the RD-8 to achieve new possibilities in beat creation by reviving a timeless analog design from one of the most-classic drum machines of yesteryear. By taking a fresh and modern approach on a classic drum machine, the RD-8 gives you the power to harness the phenomenal sound of the 808 and tap into some new features as well. Colossal bass drums through to sizzling hi-hats can be manipulated to elevate your rhythm performance to the next level. This is an analog beat-making monster!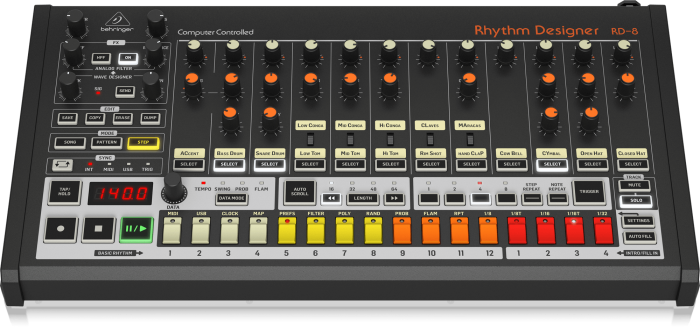 Rhythm Designer RD-8 features
Amazing drum machine with authentic analog sound engine to create the classic sound performance.
16 original drum sounds with additional parameters and global Accent capability.
Modern and versatile workflow provides enhanced playability, enabling you to create captivating live performances.
Powerful 64-step drum sequencer supports poly-meter, step-repeat, note-repeat, real-time triggering, track-mute and track-solo.
Integrated FX bus features Wave Designer and dual-mode Analog Filter with per voice assignment.
Live recording, editing and playback of Analog Filter cutoff via automation.
Storage of up to 16 songs and 256 patterns, all of which can be imported/exported during playback for unlimited songs and patterns.
Pattern Mode allows arrangement of patterns into full songs and setting number of repeats per song part.
Song Mode allows chaining songs together for live sets and expanded compositions.
Unique Auto Scroll feature enables improvisation in all modes.
Comprehensive MIDI In/Out/Thru and USB implementation for synchronization and connection to external devices.
Sync options include USB, MIDI, Clock and Internal for maximum versatility.
11 independent analog outputs for external processing or recording your rhythms as multi-track audio.
Powerful headphone and main outputs on 1/4″ connectors.
High-visibility LED display makes it easy to verify program parameters.
Robust encoder for editing parameters such as Tempo, Swing, Probability, Flam and Random.
16 vintage-style step buttons with bold LED indicators for easy pattern creation.
3-Year Warranty Program.
Designed and engineered in the U.K.
The Rhythm Designer RD-8 is 299 EUR.
More information: Behringer