Behringer has announced that all models of the previously announced RD-6 analog drum machine are now ready to ship from its factory.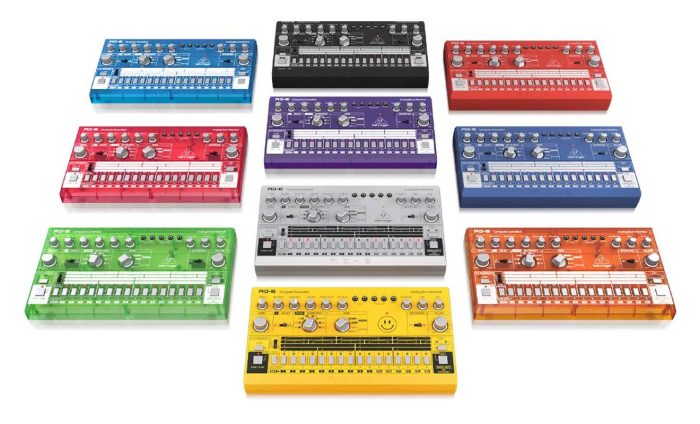 Featuring 8 drum sounds and a 64-step sequencer, Behringer's take on the TR-606 drum machine comes in a wide variety of colors.
Great care has been taken in designing the RD-6-SR to achieve new possibilities in beat creation by reviving a timeless design from one of the most classic drum machines of yesteryear.

By taking a fresh and modern approach on a classic drum machine, the RD-6-SR gives you the power to harness the phenomenal sound of the venerable TR-606 and tap into some new features as well.

Punchy bass drums through sizzling hi-hats and even the authentic and renowned BR-110 clap sound can be manipulated to take your rhythm performance to the next level. This is an analog beat-making monster!
RD-6 features
Amazing Drum Machine with true analog circuitry.
Authentic reproduction of original circuitry with matched transistors.
8 original drum sounds with mix parameters and global accent capability.
Highly acclaimed and authentic clap sound from the DR-110 drum machine.
Easy-to-use 16-step drum sequencer with real-time switching between 32 separate patterns.
Patterns can be chained into full songs with up to 250 bars.
Distortion circuitry modeled after the RAT* adds insane spice and edge to your sounds.
16 authentic-style step buttons with LED indicators for easy pattern creation.
11 controls and 26 switches to give you direct and real-time access to all important parameters.
MIDI and USB implementation for synchronization and connection to external devices.
Sync options include USB, MIDI, Clock and Internal for maximum versatility.
The RD-6 will be available in stores soon, at an estimated price of 149 EUR.
More information: Behringer