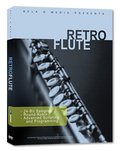 Bela D Media has released Retro Flute, a flute sample library for Kontakt.
Though it will sit extremely well in a Cinematic, Classical or Jazz ensemble track, it is the retro sound used by many progressive rock artists that produces a pure and powerful tone.
Retro Flute features
Sustained Straight Tone & Vibrato.
Sung Style.
Various Staccato Options.
Repetitions, Overlaying Options.
Player Breath Noise, Key Noise
Slide Down, Runs, Flutter, Mordent, Half and Whole Tone Trills.
Retro Flute for Kontakt 2.2.4. or higher (K3 compatible) is available for $119.99 USD. Use coupon code 00010 at the checkout to receive an additional 5% discount on a purchase.
Visit Bela D Media for more information.