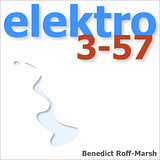 Benedict Roff-Marsh has announced the release of electro 3-57, a ReFill for Reason 4 featuring sounds from the late 1970's to the early 1990's.
Benedict writes:
Many of these sounds are from real pieces – including all the sounds from my Cassini Album.
electro 3-57 features
357 sounds in categories: Arpeggios & patterns, basses, drums & percussion, effects, leads, organs & poly, pads, piano & clav, sound fx & bells, strings & brass.
Patches are also arranged by unit: Combinator, Thor, Subractor, NN-XT & Maelstrom.
Featuring the types of sounds found on recordings using:

late 70's – Moog, ARP, Roland analog synths.
early to mid 80's – Roland, Korg, Oberheim, Sequential Circuits digital analog synths.
mid to late 80's – Casio, Yamaha, PPG, Waldorf digital synths.
early 90's – Roland, Korg sample player synths.

Included are Starter Pieces loosely in styles common to the time period covered.
The electro 3-57 ReFill is available for purchase for $19.95 AUD. A demo is available for download.
More information: Benedict Roff-Marsh