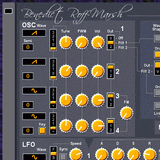 Benedict Roff-Marsh has released SynthStudio Pack IV – Wide Boys & Heroes, a collection of instrument and effects for Windows.
The theme for this pack was to build instruments and effects that are really organic in character. I developed under the Dirty Analog tag as I wanted each and every oscillator to be wonderfully grimy and unpredictable.

Wide Boys refers to the lively and wide sound these instruments and effects deliver. Heroes because I always have my eyes on standout instruments of the past from manufacturers like Oberheim, Waldorf, Hammond, Farfisa and EMU.

Of course the tagline is also a (slightly warped) reference to the lead song from Gary Numan's "I Assassin" album
SynthStudio Pack IV – Wide Boys & Heroes features
Synths:

DA-80 – 4 Osc Dirty Analog with Mod Matrix
wavElektrik – 4 Osc retro sample player
GO-5p-l – Combo style Organ with Rotary Speaker
DA-01 – Mono/Duophonic Dirty Analog synth

Effects:

SC-02 – Dual Stereo Chorus with a wide shiny sound
LP-04 – Light Phaser with 1-4 Bands
EL-2 – Crossfadable Dual Echo lines with modulation (for Berlin School)
RS-2 – Rotary Speaker with 2 speaker arms (like a real Leslie)
3q-1a – 3 Band EQ
IR-110 – Instrument Reverb/Echo
SynthStudio Pack IV is available to purchase for $10 USD.
More information: Benedict Roff-Marsh