Best Service has announced the release of Chris Hein Solo Violin, a virtual violin instrument for Native Instruments Kontakt Player.
Outshining all previous violin libraries, never before has a sample library of this extent has been dedicated towards a single string instrument.
Recorded with greatest care and endless details, precisely edited and merged into a practical and musical instrument for NI's Kontakt Player offering an elaborated custom-tailored user-interface with comprehensive scripting. Chris Hein – Solo Violin features high-grade sound quality and incredible realistic articulations. This library offers everything you have been missing with previous virtual string instruments.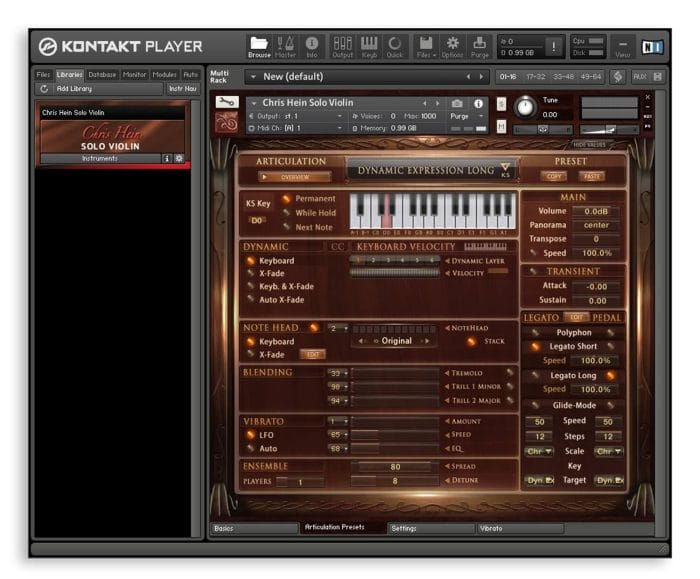 You receive over 10.000 samples (4 gigabytes of sample data), 38 articulations, four different legato transitions as well as extensive phase-alignment of all samples t guarantee smooth inaudible crossfades of up to eight velocity layers. This feature-set allows the creation of authentic violin-arrangements unprecedented on a computer.

Chris Hein – Solo Violin delivers outstanding, detailed and highly expressive results as a solo instrument or as part of an ensemble – in all relevant genres ranging from classical music and film scores to gypsy-jazz, folk and pop ballads.

And there is even more: Chris Hein – Solo Violin provides sound-designers, composers of film- and game soundtracks and experimental musicians with special effect-sounds and uncommon articulations with partly exceptional dynamics, such as flautando, flageolets and ponticello. Therefore, the pitch range of the virtual instrument has been expanded in comparison to the original violin. The special effect sounds are further supported by the internal tenfold DSP-effects-rack. Feel free to create complex sound clusters, dense atmospheres and surreal sound worlds out of a single violin for incredible moments of suspense.

By using the Ensemble Maker, the solo instrument can easily be turned into an ensemble being able to take advantage of all available articulations. A voice division in the stereo image and fine detuning intensifies this effect.

Chris Hein – Solo Violin equally serves demanding string instrument enthusiasts as well as composers needing more than just excellent sounding samples but also comprehensive details, a full offering of articulations and a versatile adaptation to their preferred workflow.

On one hand, the instrument offers a comprehensive full sample set with all articulations being ready to play on the keyboard. Thanks to the library's modular approach on the other hand, significantly reduced variations may also be called up with fast load times and low memory requirements.

By using the clean start configuration, the instrument is initially loaded in a sustain variation while further articulations and functions can simply be added at any time if needed. This way, you may as well work fluently and efficiently on compact and mobile production systems using a lot less memory.
Chris Hein Solo Violin is available for purchase for MSRP 179 EUR/$179 USD/£139 GBP.
More information: Best Service / Chris Hein Solo Violin