Best Service has announced the release of Dark ERA, a new virtual instrument collection by Eduardo Tarilonte.
With Dark ERA, Eduardo Tarilonte – the master of mystical sounds – leads us back into the dark age where legends were born and where old northern gods still determined the fate of mankind. This library allows you to discover sounds to which the vikings and other already forgotten cultures and tribes were celebrating and singing their myths.

The fascinating sound of Dark ERA ranges from the transcendental drones of the ancient stringed-harp Tagelharpa to the unmatched grace of the gut-stringed Lyre to the distinctive and characteristic sound of the Nordic bone flutes and the overtone flute Fujara. Goose bumps are guaranteed with the sound of war horns such as the wooden Lur, thunderous mighty percussion, a full ensemble of frame-drums as well as mystical throat chants.

These instruments are complemented by an impressive collection of pulsating pads and atmospheric soundscapes which evolve over longer periods. These unique sounds ensure that Dark ERA can clearly be regarded as the next masterpiece created by Eduardo Tarilonte.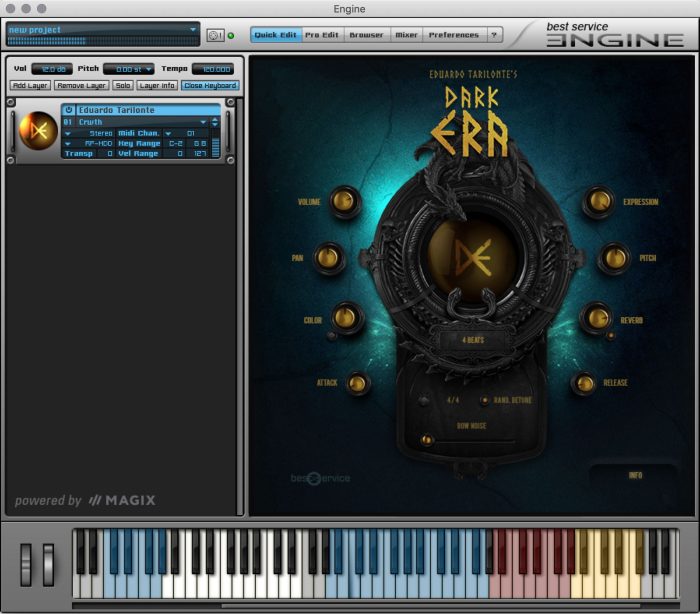 Dark ERA features
57 instruments, 20,000+ samples.
Includes 7 string instruments, 17 wind instruments and 33 drums and percussion.
Several play techniques, true legato for wind instruments.
String instruments offer round robin samples for notes being picked in up and down directions.
100+ programmed soundscapes, partially rhythmically animated.
Includes dedicated Epic Loops, rhythmic pads and vocal rhythms inspired by the Inuit.
Dark ERA is available for 259 USD/EUR. Registered users of ERA II Medieval Legends, ERA II Vocal Codex, Ancient ERA Persia or Celtic ERA can crossgrade at a reduced price of 199 USD/EUR until end of March 2019.
More information: Best Service