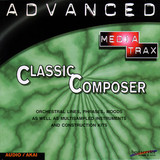 Best Service has announced the release of a free sampler: Advanced Media Trax Vol 2 Classical Composer, a collection of classic sequences, phrases and arrangements, optimised for remixes and film soundtracks.
We are proud to tell you, that SoundsOnDemand offers now a variety of more than 800 professional soundware titles for instant download. Available are virtual instruments and sound libraries by more than 50 suppliers, covering all genres. So SoundsOnDemand is the most important download platform for virtual instruments in combination with sound libraries worldwide.

To celebrate this and also to offer the opportunity to check SoundsOnDemand's sound quality and fail safe website functionality, we offer free download of this professional and valuable soundlibrary to everybody: Advanced Media Trax Vol 2 Classical Composer in WAV or Kontakt format.
Use the following PromoCodes at checkout to get your download for free:
PromoCode-WAV: 635154503583907
PromoCode-Kontakt: 648296898603438
Note: This offer will require you to subscribe to the Best Service newsletter. You can unsubscribe the newsletter at any time.
More information: SoundsOnDemand / Advanced Media Trax Vol 2 Classical Composer