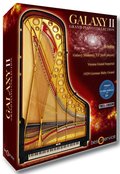 Best Service has released Galaxy II, the successor of the Galaxy Steinway 5.1, extended with two more world class grand pianos.
Equipped with the completely new Kontakt 2 engine for an ultra realistic playing experience and a specially designed user interface, allowing simple, but very flexible sound configuration and creative sound design.
Galaxy II features 3 world-class grand pianos:
Galaxy Steinway 5.1 (real surround and stereo version)
Vienna Grand Imperial (96 keys and incredible low end)
German Baby Grand (beautiful 'singing' tone, built in 1929)
In total Galaxy II includes more than 6000 samples of a Steinway D, a Bösendorfer Imperial and a 1929 Blüthner Baby Grand.
Features
up to 12 "modeled velocity zones" for a wide and smooth dynamic range
chromatically sampled – real sustain resonance and release, recorded with multiple velocity and timing
real Una Corda Samples (Soft Pedal)
adjustable Hammer, Pedal and Damper noises
specially designed user interface
direct control of all important functions in the main menu
detailed editing in 10 special menus
integrated help window
simple and very effective "one-knob" control of tone colour (without EQ), warmth and dynamics
warp-section with 4 FX-machines for drastic sound design
Pad machine for generating spheric and atmospheric synth pads
convolution-reverb with lots of rooms, halls and ambiences
stereo width and position adjustable
recorded in Galaxy Studios and Hansahaus Studios (2 Jazz-Grammy-Awards) with high end and Vintage microphones (Brauner, Neumann and Bruel&Kjaer) and state-of-the-art equipment (Neve Capricorn, SSL 9000, Preamps by Neve, Focusrite Red Series, Summit etc.)
Visit Best Service and Galaxypianos.com for more information and mp3 demos of Galaxy II.