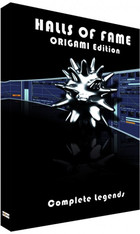 Best Service has released Halls Of Fame: Origami Edition, a real-time impulse response processor for Windows and Mac.
Sonic Lab's "Halls Of Fame" and Yellow Tools' "ORIGAMI" engine now in an ultimate all-in-one reverb and effects processor solution. With "Vintage Legends" and "Digital Legends", Sonic Lab has rounded up all the stars from the Halls of Fame in one outstanding collection.

This follow-up to the successful 'Halls of Fame' IR collection (contains audio IRs only, no Origami engine and two units only: Lex 960 + T600C) comes in True Stereo taking audio quality to a whole new level. Never before have impulse responses been achieved so faithfully from vintage and digital reverb classics in one convenient and easy to use convolution reverb processor plug-in with all the original presets and more!
Halls Of Fame: Origami Edition features
Contains all the original presets from the following units:

Vintage Legends: EMT 240 (1974), EMT 250 (1976), Lex 224 (1978), Lex 300 (1998), Lex 480 (1987), AKG BX 20 (1965).
Digital Legends: Lex 96L (2002), Lex 96 (2007), T600C (1998), Bric M7 (2007), R 880 (1988), QRS 2496 (1997), Even T 2016 (1983 / 2006) Reverb.

Over 1500 presets of multi channel format IRs.
ORIGAMI as the player (no audio import supported) offers three independent snapshot slots, a FX bank browser with many presets and an elaborate time stretch engine "Elastique" that gives you the possibility of adjusting the IR length almost at will.
Stunning audio quality that actually matches that of the original equipment. Thanks to TRUE STEREO HDIR (High Definition Impulse Response) technology in 96 kHz resolution and 32 bit floating point wave format, S/N ratios have been enhanced further still. High end "PrismSound" ADA-8XR converter and "StraightWire" audio leads also contribute to the hitherto unrivalled precision and pristine, crystal-clear quality.
Halls Of Fame: Origami Edition is available for Windows and Mac (VST/AU) for 379 EUR incl. VAT.
Visit Best Service for more information.