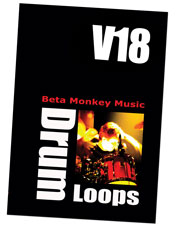 Beta Monkey Music has released Drum Werks XVIII: Piccolo Grooves, a new drum loops sample library.
The fourth installment of the L.A. Sessions – this time with a unique rhythmic voice – the piccolo snare. providing a perfect alternative snare voice for contemporary songwriting style.

The featured voice – a sleek 13″ x 3″ steel shell piccolo snare – provides the quintessential pop and bright snare tone for modern rock and pop (not to mention a few others). With a high-pitched attack and tight projection, Drum Werks XVIII: Piccolo Grooves will inspire a whole different side of your songwriting.

Compatible with both Drum Werks XV, XVI, and XVII (only the snare was changed – the kit, room, and mix remain constant) Drum Werks XVIII takes the unique piccolo snare voice and delivers up a steamy mix of essential rock and pop grooves, in a wide-range of tempos from 60 BPM to 140 BPM.
Drum Werks XVIII: Piccolo Grooves features
340 (422 MB 24 bit WAV; 282 MB 16 bit WAV) original, license-free "acidized" or APPLE LOOPS/AIFF loops.
264 (331 MB/24 Bit or 221 MB/16 Bit) multi-velocity drum and cymbal samples.
Groove Sets™ ranging from 60 BPM to 140 BPM.
Each Groove Set includes all the vital elements for drag and drop song construction (intro fills, verse, pre-chorus, chorus, bridge loops as well as endings).
Consistent drum sound across the entire L.A. Rock Essentials Series to make mixing and matching between Groove Sets seamless.
Available in 16 and 24 bit ACIDized WAV and APPLE LOOPS formats. REX2 format available Fall 2010.
Drum Werks XVIII: Piccolo Grooves is available to purchase as a download for $24.99 USD.
More information: Beta Monkey Music / Drum Werks XVIII: Piccolo Grooves