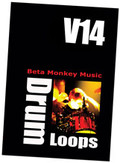 Beta Monkey Music has released Drum Werks XIV: The Brazilian Kitchen, a sample collection featuring a wide variety of Brazilian drum styles.
Drum Werks XIV: The Brazilian Kitchen offers a wide variety of Brazilian drum styles in tempos ranging from 50-150 BPM. With nine (9) complete Groove Sets™, Drum Werks XIV will be your go-to disc for the classic Bossa and Samba grooves of Rio de Janeiro, to the fresh sounds of Xote, Baiao, Maracatu and more from the Northeast. The disc includes groove variations, fills, one shot endings and a complete multi-velocity sample kit.
Drum Werks XIV: The Brazilian Kitchen features
Cohesive Drum Sounds: All drum loops are taken from the SAME recording session (all grooves, fills, etc., are sonically-matched). Like to change tempos or feels? You can mix any loop with anything else on the disc. The bottom line here is maximum versatility.
Fully-Sampled Drum and Cymbal Samples: Build even more great grooves with a collection of all the drums and cymbals recorded on Drum Werks XIV.
A Great Overview of Essential Brazilian Rhythms: You'll have all the tools need to build your favorite Brazilian influenced songs, and Drum Werks XIV is also a great tool to inspire your writing. These grooves are a great alternative to the standard beats usually found in your favorite styles. Try the baiao/maracatu for your next rock tune! Groove Sets™ ranging from 50 BPM to 150 BPM will the deliver the feels we dare any drum machine or virtual drummer to match!
Disc Stats: 607 (680 MB 24 bit WAV; 482 MB 16 bit WAV) original, license-free "acidized" or APPLE LOOPS/AIFF loops + 67 (35 MB) multi-velocity drum and cymbal samples.
Drum Werks XIV: The Brazilian Kitchen is available in 16 or 24-bit "acidized" WAV (16/44 or 24/44) and Apple Loops (24 Bit AIFF) formats for $39.99 USD (REX2 available soon).
Visit Beta Monkey Music for more information and some audio previews.