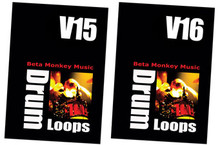 Beta Monkey Music has released Drum Werks XV and Drum Werks XVI, two rock essentials drum loop collections.
Essential rock grooves to give your drum loop library what it really needs: no-nonsense, hard-hitting, rock drumming. From powerful slow grooves to aggressive up-tempo beats, the L.A. Rock Essentials Series (Drum Werks XV, XVI, and and the upcoming XVII) provides a versatile arsenal of classic and contemporary rock grooves ready to steamroll your next rock song or project.

Recorded in one of Los Angeles' finest drum rooms with a seasoned pro behind the skins, we wanted to create a no-nonsense rock-solid collection of grooves for rock. No busy patterns, no off the wall fills, no over-playing. Just straight-forward rock grooves that serve beautifully as the foundation for any rock-based song.
Drum Werks XV and Drum Werks XVI features
Dynamic Grooves: From slow grooves to powerful up-tempos and all points in-between, Drum Werks XV and Drum Werks XVI deliver a versatile collection of contemporary and classic rock grooves.
Greater Realism: With a seasoned pro behind the kit in one of L.A.'s best drum rooms, the emphasis is on longer loops for greater realism and dynamics in your drum tracks.
Wide Tempo Range: 50, 60, 80, 100, 120, and 160 BPM.
Cohesive Drum Sounds: All drum loops are taken from the SAME recording session (all grooves, fills, one shots, etc., are sonically-matched).
Complete Multi-Velocity Drum and Cymbal Sample Set: All drums used in recording Drum Werks XV and XVI are included as a multi-velocity sample collection. Add single voice accents where needed or sequence custom patterns.
Nearly 500 (1.4 GB) original, license-free drum loops combined. Available in 16/44 or 24/44 ACIDized WAV and APPLE LOOP (AIFF) formats.
354 (300+ MB) multi-velocity drum and cymbal hits. Includes all drums used as well as crashes, chinas, rides and hi-hats. Available as separate download after purchase.
Additional Material: Endings, breakdowns, extended fills.
Drum Werks XV and XVI are available to purchase for $24.99 each.
More information: Beta Monkey Music